Prototypes are early models of a product that are typically used for testing before the final product is manufactured and sent out to market. Prototypes allow medical device makers to evaluate a product's design and enhance the product if needed. Search for qualified suppliers of prototyping services for your manufacturing facility in this directory.
Supplier News (1 results)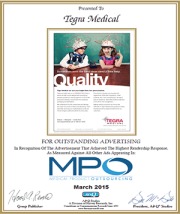 Tegra Medical
Tegra Medical's marketing team is proud to announce that a recent print advertisement r...