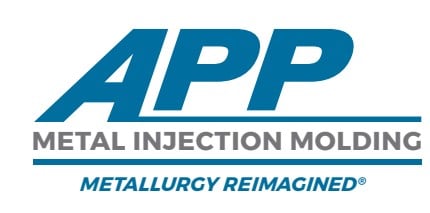 Advanced Powder Products, Inc.
Manufacturing small, intricate, high-volume components is often costly and hard to scale. Here at Advanced Powder Products, our proprietary technology platform harnesses the power of metal injection molding to maximize the performance of your design.


MIM Technology Platform





Medical device companies need a reliable supplier for all of their small and complex metal parts. In order to achieve that sort of relationship, questions often need to be answered surrounding available space, prototyping, qualifications, and more. The manufacturing process is undeniably technical and complex, but finding the right partner shouldn't be.

You are pushing the boundaries of innovation. We know how hard it is to engineer qualified components that meet print. You need to get everything to market faster and on budget. That can lead to an overwhelming pressure to deliver–knowing your reputation is on the line.

Thankfully, there is a solution. Metal injection molding (MIM, for short). MIM is a manufacturing process that combines the most useful characteristics of powdered metallurgy and plastic injection molding to facilitate the repeatable production of small, complex-shaped metal components with outstanding mechanical properties. We could go in-depth with technical specs about our favorite elements of MIM or how we geek out over creating the perfect "feedstock", but we'll save that for another time.

What really matters to you now as a manufacturing leader is that creating small, intricate, high-volume components without metal injection molding is expensive.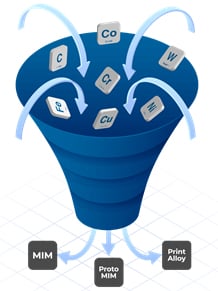 For over 20 years we have been reimagining MIM to produce precision, complex, net shaped, high density components for the medical device industry. We know how difficult it is to engineer components that meet print which is why we work with you to balance the dueling needs of budget and quality so that you get the best outcome.

We engineer and compound our feedstock in house to meet the medical market's exacting requirements. Our team literally wrote the book on MIM. From award-winning technology to the latest in automation trends, our team is an extension of yours. Together, we make agile decisions that incorporate the best science and technology has to offer so that you maximize your return. Learn more about our MIM Materials Here

When you need us, we are here ready to discuss anything from rapid engineering production to tight tolerances and complex geometries. Our first priority is ensuring you have a trusted partner that understands your needs. Our goal is to equip you to overcome challenges and meet the highest of quality and standards. Bring us your small, complex part applications and let us demonstrate why we wrote the book on MIM.

Ready to make the most out of metal injection molding?

Here's how:


Talk to an expert
Let's address your biggest challenges together.
Conduct a full technical review
The right game plan starts with a thorough assessment.
Adjust for alignment
We'll ensure your teams, schedules, and materials are all positioned to execute.
Deliver on our promise
Watch metal injection molding maximize the performance of your design.
If your manufacturing efforts center on components that weigh less than 100grams, we can help. Let's ease the pressure of delivering parts that demand the highest performance.
The latest advancements in metal injection molding have been created to maximize your design and bottom line. Manufacturing will always be complex. Finding the right partner to meet your industry's highest demands doesn't have to be.
(It all starts with a simple conversation.)
Let's schedule time for you to talk with one of our MIM experts today. Together, we'll make the most out of your manufacturing process by delivering qualified parts that are dependable, scalable, and designed to maximize your most valuable resources.

Contact Advanced Powder Products, Inc.