Two Years with Zero Accidents
SALTILLO, COAHUILA, MEXICO -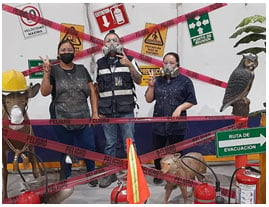 Plasticos Flambeau plant associates in Saltillo recently reached two years (730 days and 1,465,792 hours worked) of operation with zero accidents. Celebrated by the crew on September 29, 2021, this achievement sets Flambeau apart in a manufacturing industry that experiences approximately three accidents per 100 workers in a given year in the United States, according to the Occupational Safety and Health Administration (OSHA).
Achieving zero accidents in manufacturing requires many levels of commitment. In Saltillo, the crew utilizes weekly reviews and checklists to analyze critical plant-wide safety points.
Continual training and personal safety equipment requirements ensure workers are empowered to operate machinery and perform duties safely. Constant attention by maintenance crews keeps machinery and safety devices in top working order.
As a designated "essential business," Flambeau continued operating during the COVID-19 pandemic. In Saltillo pro-active prevention protocals were implemented to minimize the risk of contagion, with more than 70 actions assigned.
"Flambeau recognizes the importance of safety and is committed to providing a safe and healthy work environment," said Dario Aranda, plant manager of the Saltillo facility, who oversees the continuous application of safe work practices and health protocols.
The plant's slogan says it best: "Un día seguro, seguro es un gran día." Or, in English: "A safe day, sure is a great day." A workday at Flambeau can be even greater with added incentives, awarded to associates for safe workplace achievements.
Flambeau is a leading, world-wide plastic manufacturer. In Saltillo, it produces automotive and heavy duty truck parts, Flambeau Outdoors decoys, appliance components, air filtration components, fluid systems, and much more. The Saltillo plant has 290 associates and operates 10 injection molding presses and 19 blow molding presses.
---
Flambeau, Inc., a Nordic Group company established in 1947, is a thermoplastics manufacturer headquartered in Baraboo, Wisconsin. With certified facilities and sales offices throughout the United States, Mexico, United Kingdom, and in China, Flambeau serves many retail and commercial markets, including contract manufacturing for key sectors of the automotive, industrial, medical, fluids, and packaging industries. For further information on Flambeau's capabilities, please visit www.flambeau.com.
CONTACT FOR FURTHER INFORMATION:
Sonja Stauffacher, VP Administration, Flambeau, Inc.
608-355-6511 • [email protected]
View website