Sixth Consecutive Year to Receive Honor
BARABOO, WISCONSIN -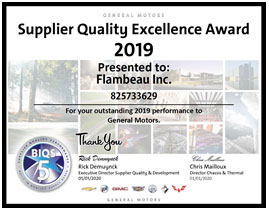 Flambeau's plants in Madison, Georgia, and Saltillo, Coahuila, Mexico, which each manufacture thermoplastic molded parts for the automotive industry, received General Motors (GM) Supplier Quality Excellence Awards recently for the 2019 year. For the company's Mexico facility, Plasticos Flambeau, it was the sixth straight year receiving this recognition from GM.
Only GM's top performing suppliers are eligible to receive this recognition, which is awarded to specific manufacturing locations having met or exceeded a very stringent set of quality and logistics performance criteria.
Only a fraction of GM's suppliers earn this special recognition, and an even smaller fraction have earned it six consecutive years as the Mexico facility has.
"A lot of continuous improvement went into the tooling and production of GM's fixtures," said Tracey Ledford, plant manager of Flambeau's Madison plant. "That our commitment to quality are recognized out of all of GM's suppliers around the world is an excellent reflection of the efforts of each Flambeau employee."
"We are honored to be recognized for a sixth straight year by our valued customer," said Dario Aranda, Plant Manager at Plasticos Flambeau.
The GM parts produced in Saltillo include ducts and duct assemblies used in GM's large platform SUVs, such as the Chevrolet Tahoe and the Cadillac Escalade. Eight different parts manufactured in Saltillo contributed to the award.
The GM parts produced in Madison include ducts, duct assemblies and nozzles used in the Chevrolet Corvette, and ducts and duct assemblies for GM's large platform SUVs.
LThis round of presentations could not be done in person due to COVID-19 health safety concerns. Nevertheless, the awards emphasize the on-going importance of performance to GM and the automotive industry, and it allows Flambeau to celebrate the achievement of quality for a valued client. For more information about Flambeau, Inc. and its award-winning manufacturing services, please contact us at www.flambeau.com.
---
Flambeau, Inc., a Nordic Group company established in 1947, is a thermoplastics manufacturer headquartered in Baraboo, Wisconsin. With certified facilities and sales offices throughout the United States, Mexico, United Kingdom, and in China, Flambeau serves many retail and commercial markets, including contract manufacturing for key sectors of the automotive, industrial, medical, fluids, and packaging industries. For further information on Flambeau's capabilities, please visit www.flambeau.com. 
CONTACT FOR FURTHER INFORMATION:
Sonja Stauffacher, VP Administration, Flambeau, Inc.
608-355-6511 • [email protected]
View website