Website Features 360-Degree Videos, New Catalog Download
MIDDLEFIELD, OHIO –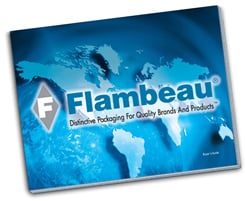 Flambeau's packaging division is excited to announce two essential enhancements to its product showcase. On one hand, the new packaging catalog is available to view or download; on the other, the packaging website now features new 360-degree videos to enhance the division's online gallery.
The new Flambeau packaging division catalog is now available at www.flambeaucases.com for mobile or desktop viewing, or for downloading. Paper copies can also be requested by calling 1-800-344-5716. As a worldwide industry leader in thermoplastic packaging design and manufacturing, Flambeau's new catalog is an essential resource for products made to protect and store a wide variety of tools, firearms, medicine, consumable goods, electronics, and more.
With 148 full color pages, the detailed packaging catalog displays an array of sizes, styles, components, features, and customizable options, each organized in color-coded sections. Visitors to www.flambeaucases.com can scroll to the bottom of the page and click "2021 Product Catalog" under Site Links to begin a search for the right packaging solution.
The packaging website features another extremely helpful enhancement. Visitors to the packaging website will discover eye-catching 360-degree videos on the pages of various products, such as Merchant or Tradesman carrying cases, waterproof satchels, tactical gear boxes, and many others. A website visitor can hover the cursor over a video thumbnail and see the product fully rotate and view the product's latch, handle, and lid action. The 360-degree video feature enhances customers' understanding of the physical features of products with visualizations of latch and handle operation and how lids open and close. Gasket seal and foam insert placement is also animated for applicable cases. An example of Flambeau's new 360-degree product views can be viewed by visiting www.flambeaucases.com/hd-gear-box.aspx.
---
Flambeau, Inc., a Nordic Group company established in 1947, is a thermoplastics manufacturer headquartered in Baraboo, Wisconsin. Flambeau offers a large array of proprietary stock plastic packaging and storage products, with many customization options. With certified facilities and sales offices throughout the United States, Mexico, United Kingdom, and in China, Flambeau serves many retail and commercial markets, including contract manufacturing for key sectors of the packaging, medical, fluids, automotive, and industrial industries. For further information on Flambeau's capabilities, please visit www.flambeaucases.com.
View website