New Investment, Improved Systems Contribute
BARABOO, WISCONSIN -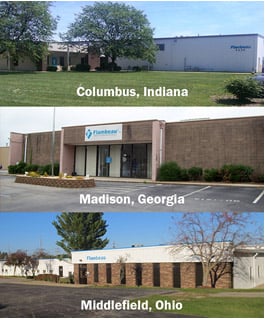 Surges in demand for plastic parts led Flambeau, Inc. to invest significantly in its operations recently, including the addition of new presses at three of its nine North American plants, namely, Columbus, Indiana; Middlefield, Ohio; and Madison, Georgia. The additions represent a company-wide expansion of capabilities for Flambeau's manufacturing capacity.
A world-wide economic slowdown last year due to the Covid-19 pandemic was generally anticipated in the manufacturing industry, but for Flambeau it led to a rapidly increasing company-wide backlog of orders. Just months into the slowdown, Flambeau's supply chain began to reach its limits, and demand for vital parts began to overwhelm supply. A top manufacturer of plastic parts for automotive, consumer and industrial markets, Flambeau addressed the backlog by adding presses to its arsenal, among other efforts towards overall improvement.
In Columbus, a new 750-ton press is primarily dedicated to specific proprietary products, including Flambeau® Brute™ tool boxes, gun cases, and tackle boxes. In Madison, new 200-ton and 900-ton presses are utilized to increase production of a variety of stock and custom products for Flambeau's fluids and packaging divisions. In Middlefield, three new presses ranging from 330- to 730-ton are primarily dedicated to manufacturing stock boxes and cases for Flambeau Outdoors™, ArtBin® and other packaging lines of products.
Flambeau's additional efforts include the implementation of several creative solutions to reduce backlog, such as 24-hour operations and new production scheduling methodology to improve forecasting practices and address various constraints on production.
Along with the further expansion of injection and blow molding at its several plants, Flambeau is implementing a modern, company-wide ERP system that will continually improve customer support and the company's standing as a world-class supply chain system.
---
Flambeau, Inc., a Nordic Group company established in 1947, is a thermoplastics manufacturer headquartered in Baraboo, Wisconsin. With certified facilities and sales offices throughout the United States, Mexico, United Kingdom, and in China, Flambeau serves many retail and commercial markets, including contract manufacturing for key sectors of the automotive, industrial, medical, fluids, and packaging industries. For further information on Flambeau's capabilities, please visit www.flambeau.com.
CONTACT FOR FURTHER INFORMATION:
Sonja Stauffacher, VP Administration, Flambeau, Inc.
608-355-6511 • [email protected]
View website