Three New Territory Managers Hired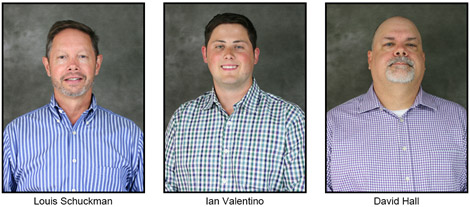 Flambeau recently added three promising professionals to its national sales force – Louis Schuckman, Ian Valentino, and David Hall. These new Territory Sales Managers will assist regional customers and promote all aspects of Flambeau's thermoplastics manufacturing capabilities in their sales territories.
Closest to company headquarters in Baraboo, Wisconsin, is Louis Schuckman, who comes to Flambeau's sales team with 20 years of industrial and technical selling experience, with companies such as HILTI, Cramer Decker and SafeRack. Schuckman's territory includes Ohio, West Virginia and the western halves of Pennsylvania and Maryland, where he resides in Boonsboro, Maryland. In his leisure time, Schuckman enjoys spending time with his family, as well as traveling, kayaking, and scuba diving.
Farther east, Ian Valentino's Flambeau sales territory covers the Mid-Atlantic market, including the eastern half of Pennsylvania, central New York State, all of New Jersey and Delaware, and eastern Maryland. Ian resides in Coatesville, Pennsylvania, and is a recent graduate of West Virginia University with a degree in Engineering. He enjoys sports and sporting activities of all kinds.
In the South, David Hall represents Flambeau throughout Florida, Mississippi and Alabama. He resides in Birmingham, Alabama, and brings many years of experience to the sales force, most recently with Priority Plastics. He has a background in injection molding. Hall enjoys baseball and spending time with his family.
Flambeau's Vice President of Sales, Jeff Lucash, is glad to have them on board. "We are excited to welcome Louis Schuckman, Ian Valentino, and David Hall to the company," he said. "With their efforts and expertise, they will be key in the expansion of Flambeau's reach in these regions."
---
Flambeau, Inc., a Nordic Group company established in 1947, is a thermoplastics manufacturer headquartered in Baraboo, Wisconsin. With certified facilities and sales offices throughout the United States, Mexico, United Kingdom, and in China, Flambeau serves many retail and commercial markets, including contract manufacturing for key sectors of the automotive, industrial, medical, fluids, and packaging industries. For further information on Flambeau's capabilities, please visit www.flambeau.com.