One Year with Zero Accidents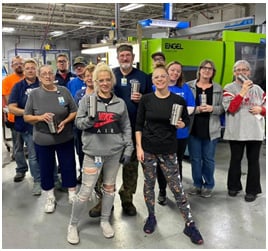 BARABOO, WISCONSIN - Associates of Flambeau's injection molding plant in Baraboo recently reached one year (365 days and 251,134 hours worked) of operation with zero accidents. Celebrated by the crew on September 30, 2021, this achievement sets Flambeau apart in a manufacturing industry that experiences approximately three accidents per 100 workers in a given year in the United States, according to the Occupational Safety and Health Administration (OSHA).
Achieving zero accidents in manufacturing requires many levels of commitment. In Baraboo, the crew utilizes weekly reviews and checklists to analyze critical plant-wide safety points.
Continual training and personal safety equipment requirements ensure workers are empowered to operate machinery and perform duties safely. Constant attention by maintenance crews keeps machinery and safety devices in top working order.
"This achievement requires involvement from each and every associate to identify and correct any unsafe condition," said Jorden Grubb, plant manager of Flambeau's injection and blow molding facilities in Baraboo, who oversees the continuous application of safe work practices and health protocols. "I appreciate everyone's involvement in reaching this milestone and look forward to celebrating again next year."
Flambeau is a highly diversified leading, world-wide thermoplastics manufacturer. Associates at Baraboo's injection molding plant produce automotive, industrial, medical, and filtration components, and much more. The plant has 152 associates and operates 36 injection molding presses.
"Thanks to all Flambeau associates in the Baraboo injection molding plant for demonstrating the proper care to perform every day," said Jason Sauey, CEO and president of Flambeau, Inc. "The achievement of going a full year without a lost-time accident is further reinforcement safety is our highest priority as we conduct our daily operations to serve our customers."
---
Flambeau, Inc., a Nordic Group company established in 1947, is a thermoplastics manufacturer headquartered in Baraboo, Wisconsin. With certified facilities and sales offices throughout the United States, Mexico, United Kingdom, and in China, Flambeau serves many retail and commercial markets, including contract manufacturing for key sectors of the automotive, industrial, medical, fluids, and packaging industries. For further information on Flambeau's capabilities, please visit www.flambeau.com.
CONTACT FOR FURTHER INFORMATION:
Sonja Stauffacher, VP Administration, Flambeau, Inc.
608-355-6511 • [email protected]
Flambeau, Inc.
A Nordic Group Member Company
Corporate Office
801 Lynn Avenue
Baraboo, WI 53913 USA
Phone: 608-356-5551
www.flambeau.com
View website