Enercon Industries Corp.
Enercon Plasma Treatment used for cleaning and improving Adhesion for Printing, Bonding, and Coating

Enercon's newest atmospheric plasma treaters offer powerful yet gentle treatment with an advanced touch screen interface that makes set up, operation and control remarkably simple.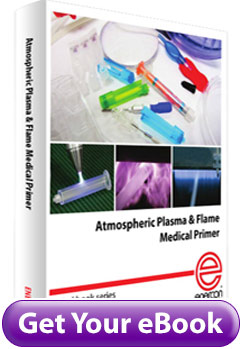 Plasma cleans, etches and functionalizes surfaces to improve adhesion of inks, coatings and adhesives. Unlike batch plasma systems, atmospheric plasma systems are used in line. The technology is commonly integrated into continuous manufacturing process through robotics and indexing systems and is highly effective on a wide variety of plastics, glass and metals.

As joining of medical plastics is becoming more complex and sophisticated, in performance specifications and structural complexity, surface treatment is an integral part of medical assembly processes. Plasma and flame surface pretreatment promote adhesion of many types of adhesives including light curing UV and LED products. In many cases expensive and hazardous priming agents can be eliminated. A presentation and webinar on UV/LED and plasma treatment can be accessed here.

Other common applications include; plasma treatment to clean glass petri dishes and various metal surfaces. And use of plasma to improve bonding of needle hubs.

Plasma is also well known for promoting ink adhesion on vials, syringes, IV bags, wires and cables. You can access a webinar on ink adhesion on wires and cables.

How plasma treating cleans, etches and functionalizes

Positive ion bombardment facilitates a micro-etching or scrubbing (ablation) effect which removes (desorb) organic and inorganic contaminants from the surface. Without changing the substrate morphology, the system successfully changes the mechanical and chemical properties of a surface. It cleans surfaces and initiates cross-linking effects.

Cleaning: Plasma cleaning involves the removal of organic impurities and contaminates from the surface. During cleaning the plasma species react to the surface resulting in molecular contaminates being decomposed, volatized and vaporized.

Etching: Micro-etching of a polymer surface is accomplished by using charged ions and neutral atoms and radicals in both the plasma forming gas and the reactive processed gas to bombard the surface.

Functionalization: Plasma activation or functionalization is the concurrent process of using radicals and small amounts of UV radiation to break up surface polymer bonds and promote the cross linking of surface molecules. Increased polar groups directly contribute to the adhesion properties of the polymers surface.

Materials Receptive to Plasma Surface Treating

Plasma surface treaters are effective in treating: ABS, ASA, ECTFE, EPD, ETFE, EVA, FEP, HDPE, LCP, LDPE, PBT, PC, PE, PEEK, PEI, PET, PFA, PI, PMMA, PP, PPS, PS, PSU, PTFE, PU, PVC, PVF, TPU TPO XLPE , XLETFE, ECTFE. Plasma surface treaters are also effective at treating glass and conductive surfaces including metal. Flame treaters provide unique treatment capabilities.

Corona, Plasma and Flame Treatment Technology Options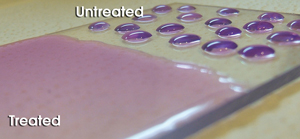 Enercon offers the industry's most extensive selection of corona, plasma, flame and atmospheric plasma surface treating systems on the market today. Surface treating discharge heads can be mounted in a fixed position or integrated with a robot for precise treatment patterns. Below is an overview of our product line-up, for more detailed information visit our website detailing plasma, flame and corona treaters.

Blown-arc air plasma is formed by blowing atmospheric air past two high-voltage powered electrodes and is sometimes referred to as corona treatment.

Blown-ion surface plasma pushes pressurized air past a single electrode which discharges inside the treater head. A high velocity stream of charged ions directed toward the substrate treats both conductive and non-conductive systems.

Variable chemistry plasma blends air with other gases that deposit various chemical groups on substrates to improve surface energy. Variable chemistry plasma treatment is an etching and functionalizing process that provides different surface characteristics depending on the gas chemistry employed.

Enercon's flame treaters provide advanced combustion control system is expertly paired with PowerFlame™ burner technology for long lasting and uniform treatment.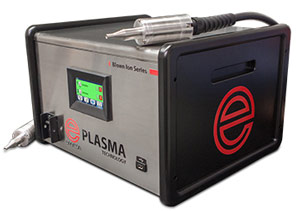 Improve adhesion with atmospheric plasma treatment

Download our ebook Getting Started with Atmospheric Plasma and discover the differences between corona treatment, flame treatment and plasma treatment. Enercon's panel of experts answer some of the most commonly asked surface treating questions.

To help you determine which technology is best for your application Learn about Enercon's free laboratory trials.

About Enercon
Enercon Industries Corporation is an international company that services the medical, pharmaceutical, packaging, food, beverage, petroleum, chemical and converting market segments. The company offers leading pretreatment surface technologies including corona, atmospheric plasma and flame treaters. Enercon's line of induction cap sealers provide a hermetic seal which provides tamper-evidence, prevents leaks and preserves freshness.
Contact Enercon Industries Corp.