KNF introduces new micro gas pump NMP830 HP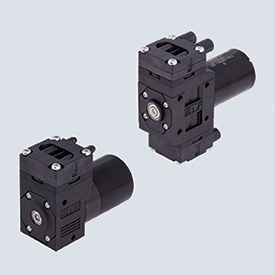 KNF introduces new micro gas pump NMP830 HP for OEM customers. This new diaphragm pump offers outstanding high flow, pressure, and suction performance in a compact size. It is ideal for medical therapy and monitoring applications.
Compact NMP830 HP measures just 31mm (1.25") in width. Yet it produces free flow up to 5.5 L/min with a single head design and to 10 L/min with a dual head. Furthermore, this pump produces best-in-class pressure of up to 3.0 bar g (43.5 psig) and vacuum down to 50 mbar absolute (28.4 inHg).
The new NMP830 HP is an extension of KNF's NMP series. This latest addition to the line offers a 33 – 44% increase in flow-to-size ratio compared to existing NMP850 and NMP830 models, respectively. Vacuum and pressure performance are also significantly improved at a comparatively smaller size and lower weight.
Thanks to its compact size, high performance, and quiet operation, the NMP 830 HP pump is particularly well-suited for use in patient monitoring, wound and compression therapy, and respiratory care devices.
Available with brushed and 2- or 4-wire brushless DC motors. Standard offerings include EPDM and PPS wetted components. All KNF pumps are engineered for success by optimizing pump solutions to meet customer's specific requirements.
For more information, please visit www.knfusa.com/NMP830HP.
View website