KNF has launced a new pump
Trenton, NJ, January 20, 2020 –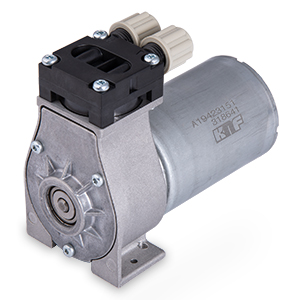 New on the market for Original Equipment Manufacturers (OEMs), KNF's NPK 06 swing piston micro compressor pump delivers remarkable high-flow and pressure performance in a compact size. It is ideal for medical diagnostics, therapy, monitoring, and general compression applications.
NPK 06 measures just 1.85" (47mm) wide. Yet the pump produces free flow up to 8 L/min and pressure up to 80 psig (5.5 barg).
The new NPK 06 extends KNF's broad series of compact NPK swing piston gas compressor pumps. This latest addition to the line offers a full 63% increase in flow-to-size ratio compared to the existing NPK 03 model. The full line offers 3 – 78 L/min flow with up to 80 psig (5.5 barg) pressure.
Thanks to its compact size, high performance, and quiet operation, the NPK 06 is particularly well suited for use in various medical device and diagnostic applications such as cryotherapy, ophthalmology, clinical chemical analysis, compression therapy, and respiratory care. Additional applications that will benefit from the pump's features include environmental and security monitors, inkjet printing and color printers/plotters, lab equipment, fuel cell technology, and more.
NPK 06 is available with 2- or 4-wire brushless DC motors. Standard offerings include PTFE, FPM and PPS wetted components. KNF welcomes the opportunity to optimize pump solutions to meet specific customer requirements.
For more information, please visit www.knfusa.com/NPK06.
View website