PTI Engineered Plastics celebrates 35 years in Plastic Injection Tooling & Molding

Macomb, Michigan – March 19, 2019 – PTI Engineered Plastics (PTI) was started by an ambitious young man with a big dream. That dream became a reality in 1984 with the purchase of a dilapidated building on Eight Mile in Warren. While he started with humble beginnings, PTI (known at that time as Proto-Tech Industries) is now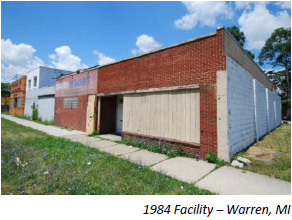 one of the most successful custom injection molders and manufacturers of plastic components and assemblies in the industry. Mark Rathbone, CEO and founder, fondly remembers the early days as stressful, but exciting! "In those days I wore all the hats, I was the bookkeeper, salesman, estimator, program manager, production supervisor and janitor!" Today, Rathbone does not wear all the hats, and there are over 325 employees who support his dream – a vision that has grown into a multi-million dollar business with a 165,000 sq. ft. state-of-the-art facility, located in Macomb, Michigan.
PTI has a deep understanding of how to get to market quickly and effectively, and they do that by providing a worry-free experience for their customers with a one-stop, full-service plastic injection molding facility. As a diverse supplier, PTI services the medical, automotive, defense/aerospace, consumer products, and electronics industries. Whether it's a need for concept design, design assist, prototype, bridge tooling, or production tool, PTI does it all! Not only does PTI build the tools, they also manufacture the parts. Need a molder that offers hightemperature molding? Done! Does your component need laser marking or pad printing? It's handled. Require assembly and packaging? No problem. Need that done in a cleanroom? They've got you covered.
PTI has indeed come a long way, but according to Mark Rathbone, the dream is not over. "Over the last four years we have been training the next generation of workers through our PTI Technical Academy. There is a shortage of skilled labor in manufacturing, so the Academy was developed to help strengthen the region's workforce and industry. The Academy provides a pathway for students who have a passion for creation and exposes them to the high-tech,
innovative world that manufacturing is today."
"PTI has had much growth both in business and workforce, and with this growth come greater challenges, but also many rewards. I can proudly say that I still have many employees that have been with me for 30 years, and more. I'm also honored to say that about some of my customers. In any business, a relationship with your employees and customers is the key to success; without those, you have an empty building."
Next time you're in the metro-Detroit area, call PTI. They would be happy to take you on a tour of their facility and discuss your next project.
About PTI Engineered Plastics, Inc.
Headquartered in Macomb, MI, PTI Engineered Plastics is an industry leader in custom injection molding and manufacturing of plastic components and assemblies with a specialty in low volume production. With 35 years in business, this technology-driven company has extensive capabilities in design, engineering, tooling, and low to high volume production with an array of secondary services. ISO Class 8 Cleanroom services include molding, assembly, and packaging. PTI is also fully versed in the IQ/OQ/PQ validation process. Visit teampti.com for more information.
###
View website