Donating Thousands of Face Shields to Medical Community
Macomb, Michigan – May 11, 2020 –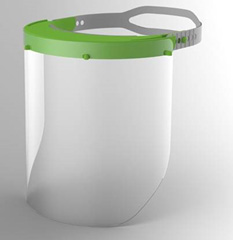 In an effort to provide much needed PPE for frontline workers in Macomb County and the surrounding areas, PTI Engineered Plastics collaborated with industrial designers at PTI Design to create a protective face shield that could be quickly produced using injection molding manufacturing.
Production of the shields began last week with a goal of manufacturing 100,000 pieces in total. Donations are being coordinated with hospitals, skilled nursing facilities, hospice care, and dental offices. As the more critical requests for PPE relating to patient care have been met, PTI plans to offer donations of face shields to first responders and law enforcement personnel, followed by grocery stores and other essential workers.
Existing designs were used for reference; however, many improvements were made to achieve an all-around better quality device.
The frame design is flexible to accommodate a variety of head proportions and incorporates a visor on top for preventing contamination from above.
The lens of the shield was designed for an overall size that would provide adequate protection and has angled cuts with rounded portions at the bottom for increased mobility. Other features include an adjustable strap with side grip features and rear support, and open cell foam padding at the forehead to allow for air flow and provide cushion.
Less than one week after starting the project, the final design was evaluated using 3D printing technology and prototype samples before being released for production. Though design and tooling were accomplished very quickly, demand for the polyester film (PET) from which the lens is created caused considerable delays.
###
About PTI Engineered Plastics, Inc.
Headquartered in Macomb, MI, PTI Engineered Plastics is an industry leader in custom injection molding and manufacturing of plastic components and assemblies, with a specialty in low volume production. With 35+ years in business this technology-driven company has extensive capabilities in design, engineering, tooling, and low to high volume production with an array of secondary services. ISO Class 8 Cleanroom services include molding, assembly, and packaging. PTI is also fully versed in IQ/OQ/PQ validation protocol. Visit teampti.com for more information.
View website