Organization Receives Top Honors in Hometown Hero Category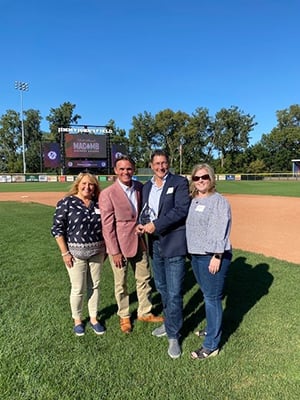 Leaders from Macomb County recently recognized PTI Engineered Plastics with a Macomb Business Award at the ninth annual awards ceremony. The award honors PTI in the Hometown Hero category for its donations of nearly 150,000 face shields to frontline workers during the COVID-19 pandemic.
"Early on when first responders were calling out for support and supply of shortages of PPE, PTI's owner Mark Rathbone did not have to think twice about creating and donating face shields from concept to production in a matter of a few weeks," said John Budreau, director of new business development at PTI. "We are proud to be a part of such an incredible community that pulled together in such a scary and uncertain time."
Business leaders from across the region attended the ninth annual Macomb Business Awards at Jimmy John's Field in downtown Utica on Thursday, September 16. Macomb County Executive Mark A. Hackel joined Vicky Rowinski, director of the Macomb County Department of Planning & Economic Development, to recognize winners in several categories:
Champion of Workplace Culture – Fosters a flexible and creative workplace that enables employees to balance work with their personal commitments
Hometown Hero – Supports/supported the community in an extraordinary way throughout the last year (i.e. pivoted to produce PPE or sanitation products; donated meals to first responders, etc.).
Diversity and Inclusion Leader – Continuously cultivates a work environment where diversity is valued as evidenced by inclusive practices.
Hidden Gem – A small business with 1-50 employees that offers a unique "made in Macomb" product or service that more people should know about.
Manufacturer of the Year – A manufacturer or supplier of any size in any industry that is achieving success through its efforts to diversify its customer base, retain employees and/or implement new technologies or efficiencies.
Trailblazer of Future Talent – Creates opportunities for the next generation of Macomb County's workforce to explore career possibilities and experience work-based learning.
Economic Development Partner of the Year
Beacon of Economic Development
A panel of judges reviewed 117 nominations and selected winners in each category. Judges included: Gene Lovell – president and CEO of First State Bank, Karen Smith – executive director of Leadership Macomb, Jim Sawyer – president of Macomb Community College, Patricia Lopez - president and CEO of Rose-A-Lee Technologies and Vicky Rowinksi – director of Macomb County Planning and Economic Development. Winners were announced at the afternoon event.
The ninth annual event was presented by Consumers Energy. Additional sponsors include Clark Construction Company, the Michigan Economic Development Corporation, the Macomb County Chamber, First State Bank, Michigan Works!, Trion Solutions, Dominion Technologies Group, Macomb Community College, RCO Engineering, Mad Habit Creative, DTE and Tucker Induction Systems. For more information, visit www.macombbusiness.com.
###
About PTI Engineered Plastics, Inc.
Headquartered in Macomb, MI, PTI Engineered Plastics is an industry leader in custom injection molding and manufacturing of plastic components and assemblies, with a specialty in low volume production. With 37+ years in business, this technology-driven company has extensive capabilities in design, engineering, tooling, and low to high volume production with an array of secondary services. ISO Class 8 Cleanroom services include molding, assembly, and packaging. PTI is also fully versed in IQ/OQ/PQ validation protocol. Visit teampti.com for more information.
View website