TORAY Reactis Stretchable Device Film Application and Video PR
Tokyo, Japan, –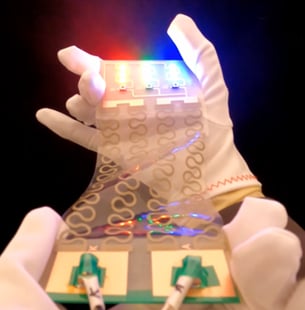 Toray Industries, Inc., A plastic wiring circuit printed on REACTIS™ stretchable film shows resounding stretchability and recovery from deformation and maintained constant electrical flow during repeated use. No reduced current flow was detected and the LED's remained firmly lit even under deformation.
During use REACTIS™ can be subjected to repetitive deformation such as linear pulling and twisting and can easily accommodate expansions, contractions, and torsional deformations of circuits and 3D curved surfaces. The film is very flexible and recovers its shape up to 97% between -4°F and 176°F and maintains heat resistance even after treatment at 392°f.
With a proprietary polymer structure design and film-forming technique REACTIS™ combines cross-linked and stretchable components. The stretchable film demonstrates ideal characteristics for stretchable devices with the elasticity such as smartwear, medical monitoring gear, biometric exercise devices, robotic systems, automation actuators applications.
The film surface can be processed to match a variety of applications with a wide temperature range while maintain printability (adhesion), and the ideal surface design. REACTIS™ thickness is between 30-100µ is suited for screen printing, inkjet printing and other processes.
To see the REACTIS™ deformation resistance video visit the Toray Qmed profile page:
https://qmed.com/newfront/exhibitor/toray-industries-inc?preview=1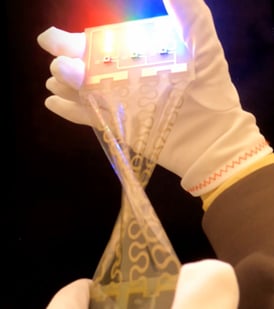 Samples are available for qualified design engineers: email requests to [email protected] For more information about REACTIS™ stretchable film, call 212-697-8150 to learn more. Or Email: [email protected] www.toray.us Toray Industries, Inc., 461 Fifth Ave, 9th Fl., New York NY 10017
###