Qosina announces the release of its latest full-line product catalog, available in both print and digital formats
Ronkonkoma, NY, USA, March 21, 2023—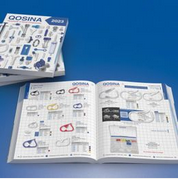 Qosina, a global supplier of OEM single-use components to the medical and bioprocess industries, is thrilled to announce the release of its latest full-line product catalog, available in both print and digital formats.
The 2023 product catalog features thousands of in-stock components depicted in full-scale photos on a one-centimeter grid to help design engineers visualize their next-generation medical device. This catalog features over 400 new products and is a complete resource guide for medical OEM, biopharmaceutical, kit packing and other applications, and includes an extensive inventory of thousands of stock components.
From drawing board, prototype, regulatory filings to full-scale production, Qosina is a one-stop source for high-quality, single-use OEM components, and is committed to supply chain continuity and operational excellence.