Qosina introduces a new selection of pinch clamps
Ronkonkoma, NY, USA, April 26, 2022—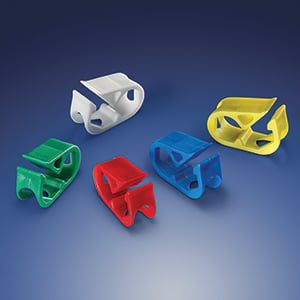 Qosina, a global supplier of OEM single-use components to the medical and pharmaceutical industries, is pleased to introduce a new selection of pinch clamps made from polybutylene terephthalate (PBT), an alternative to nylon that is used in the manufacture of many types of single-use components. Our 3/4 inch (0.75 inch, 19mm) pinch clamps are now available in white (#25659), red (#25154), yellow (#25152), blue (#25156) and black (#25153), making them ideal for color-coded sets.
Easy, one-handed closure—no tools needed
Materials meet USP Class VI and ISO 10993 criteria
Tamper-evident and zip-tie compatible
Gamma and autoclave compatible
Audible clicks when securely connected
Color-coded to distinguish between different fluid lines
Qosina has doubled its portfolio of pinch clamps over the last 2 years and now offers more than 125 options available in 8 colors and various sizes, styles and materials. These clamps are available to fit tubing dimensions of various ODs ranging from 0.059 inch (1.5 mm) to 0.75 inch (19 mm).
Qosina is a one-stop source for single-use medical device and bioprocess components, with low minimum order quantities, a liberal sampling policy and bill of material kitting, all supported by regulatory documentation and backed by Qosina's Assurance of Supply.
Explore Qosina's extensive selection of pinch clamp options at www.qosina.com/pinch-clamps.
Founded in 1980, Qosina is a leading global supplier of OEM single-use components to the medical and pharmaceutical industries. Qosina's philosophy is to address its customers' need to reduce time to market by providing thousands of stock components. The company's vast catalog features more than 5,000 products shown in full-scale illustrations on a one-centimeter grid. Qosina offers free samples of most items, low minimum order requirements, just-in-time delivery, modification of existing molds, and new product design and development. Qosina is ISO 13485, ISO 9001, ISO 22301 and ISO 14001 certified, and operates in a 95,000 square-foot facility with an ISO Class 8 Clean Room. To learn about Qosina's full component offering, which includes the newest products, visit www.qosina.com or call +1 (631) 242-3000. Visit Qosmedix, Qosina's cosmetics division, at www.qosmedix.com. Qosmedix is a certified global supplier of beauty tools and accessories to the cosmetic, skincare, spa and salon industries.
###
View website