Qosina expands its Class VI tubing portfolio with several new brands
Ronkonkoma, NY, USA, September 14, 2022—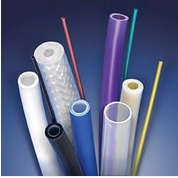 Qosina, a global supplier of OEM single-use components to the medical and bioprocess industries, has expanded its Class VI tubing portfolio with several new brands including Venabio®, Braided Flexelene™, Flexelene 135C™ and EJ Prene™.
Qosina offers an extensive selection of stock and custom tubing in conveniently packaged small coils for prototyping and extended lengths for large-scale production requirements. Choose from more than 200 options in a variety of brands, types, diameters, durometers and materials.
Qosina carries a broad selection of these well-known Class VI tubing brands: 
PharMed® BPT
SaniPure™ BDF™
TuFlux®
C-Flex®
Tygon®
PharMed® BPT
Sani-Tech®
Venabio®
Braided Flexelene™ 135C
Flexelene™ 135C
EJ Prene™
Custom tubing configurations are available to meet exact specifications including cut-to-length pieces and custom coil sizes, colors and materials.
Qosina is a one-stop source for medical and single-use bioprocess tubing, with low minimum order quantities, a liberal sampling policy and bill of material kitting, all supported by regulatory documentation and backed by Qosina's assurance of supply. Explore Qosina's extensive selection of tubing options at qosina.com/tubing.
Contact:
Qosina Corp.
Lauren Guerra
+1 (631) 242-3000
[email protected]
View website