Innovize featured in the Vadnais Heights Press article
It turns out the bits of adhesive material manufactured beyond her lobby desk will save her niece's life.
Kari Ennulat, sales and marketing assistant at Innovize, a medical manufacturing company in Vadnais Heights, was shocked to find out that the electrical insulator film in her 19-year-old niece's cardioverter-defibrillator came from the place where she works every day.
The medical manufacturing company produces materials that are used by major medical device companies, said Dave Jessen, co-owner and vice president of sales and marketing.
Ennulat discovered Innovize produces the adhesive used in the batteries of her niece's defibrillator to prevent the battery from shorting out, she explained. Her niece, a pre-med student at Butler University in Indiana, was found passed out at a health club last year. Doctors discovered an electrical issue with her heart. The implanted cardioverter-defibrillator will shock it back, should it malfunction again.
"So, it will save her life," Ennulat said.
The products made by the company are used in all Minnesota hospitals and across the country. "We do a lot of component parts and we also make a lot of finished devices," Jessen said. The products are sold to internationally known medical device companies that in turn supply medical providers.
Examples of products include patient and personal care products used for wound care, eye patches, breathing tube adhesives and wearable sensors. Innovize produces a sensor that monitors blood glucose and displays the levels on an iPhone. It also continues to manufacture the components that stick to the skin for traditional blood glucose monitoring. It is working on a new product that will help detect breast cancer without requiring a mammogram. It also produces wound care products for veterinary care.
Innovize often works directly with its clients to engineer their designs in order to reduce costs and create innovation, Jessen said. Many of Innovize's supplies for production come from 3M nearby.
A $2 million production of items that test for water purity was moved from Mexico to Vadnais Heights because Innovize was able to make the process more efficient through its use of rotary printing and cutting, he added. The Mexican manufacturer had been using a flat-sheet production method.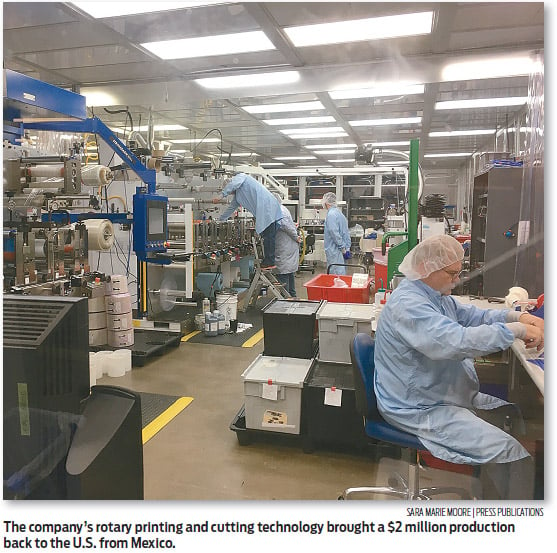 The company uses high-tech machines and robots that run at the command of the company's 150 employees and 20 temporary workers. It has never had a technology-related layoff. It has three shifts and three buildings located in northwest Vadnais Heights.
The culture of the company is well known in its field. Jessen said he hears that employees enjoy working where they can make a tangible difference in people's lives. The company's purpose of "Creating a culture and products that improve people's lives" brings all the workers together, he noted. The starting wages are a little above average — $14-15 per hour for a technician and $17-23 for an operator, said Ia Yang, human resources generalist.
Innovize gives back to the those it seeks to help through its business. It donated a $100,000 room at the University of Minnesota Masonic Children's Hospital for long-term recovery. The room was the first-ever to have circadian rhythm-based lighting in partnership with Philips Lighting, according to the University of Minnesota Foundation. The room housed one of the born-conjoined twins Paisleigh and Paislyn Martinez in 2017 during the child's recovery from separation surgery.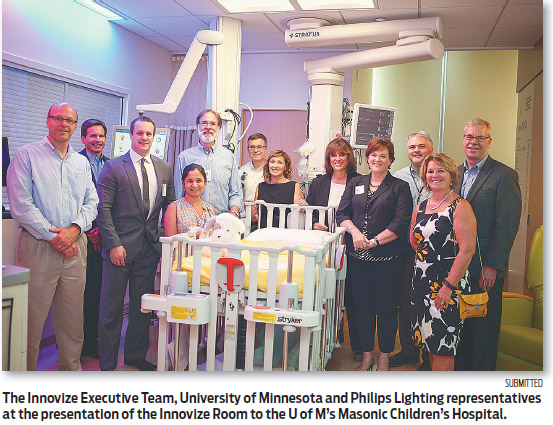 Innovize also holds an annual run at Community Park in Vadnais Heights to raise funds for the hospital. Employees participate in other activities to benefit the hospital as well, such as making fleece blankets for children.
Innovize is celebrating 60 years this fall. The company began as GML Specialties (for founder Scott's wife's initials Gail M. Ledy). Scott's son John now operates the company with Jessen. The two are high school friends. The company began manufacturing parts for computers and electronics. Fifteen years ago, it chose to focus on the medical field. The firm has been located in Vadnais Heights since 1987.
View website