Filmecc USA, subsidiary of Asahi Intecc USA
Flimecc USA is part of the Asahi Intecc Group, a Global Medical Company based in Japan with over 10,000 employees worldwide. We are trusted partner to world leading medical device companies that have our products used in Cardiovascular, Peripheral Vascular, Structural Heart, Neurovascular, Endoscopy, Urology, ENT, and other markets. We are a CDMO that provides a wide range of capabilities for design and manufacturing of components, catheters, delivery systems, and guidewires. We are an industry leader in precision wire-based components like our ACTONE Cable Tube, OEM guidewire design and manufacturing, extruded tubing, PTFE Liners, torque technologies, and coating technology. We offer contract manufacturing and provide design & development services.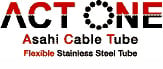 Filmecc USA, Inc. is an ISO 9001/13485-certified manufacturer of precision medical components, including ACTONE flexible metal hypotube (high torque transmission), motor-driven drive cables and multiplex torque coils, miniature coils and wires, guidewires, stylet wires, and braid-reinforced catheter tubing. High-volume manufacturing capabilities are available. Device assemblies and subassemblies are also offered.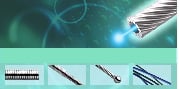 The ACTONE (Asahi Cable Tube, One To One Torque) is a flexible metal hypotube constructed from multifilar wires and typically constructed from SS 304. While applications are typically in the guidewire, endoscopy control cable, and PTCA catheter shaft areas, the Asahi Cable Tube, Drive Cables, and Torque Transmission Coils have also been used for neurovascular, peripheral vascular, atherectomy, arthroscopy, dental drill and ENT applications.
In addition, the ACTONE in most cases can be constructed in the below listed larger diameters ranging from 2 to 4mm for orthopaedic and spinal applications - ranging from bone drilling to bone flossing to reamers.


ACTONE OD 0.008 ~ 0.1539"
Drive Cable High speed rotation and torque force and flexible. Cutting/Ablating from 0.020" to 0.0374"
Custom Device: Guidewire, Diagnostic catheter, PTCA guiding catheter, PTCA balloon catheter, and others
Precision Wire: round wire OD from .0005", flat wire thickness from .0008"
Miniature Wire: 1x3 OD from .002", 1x7 OD from .008", 7x7 OD from .008"
Miniature Coil: round wire coil OD from .0039", flat wire coil OD from .0055"
Torque Transmission Wire: 1x3, 1x7,1x19 OD from .012" to 0.039"
Torque Transmission Coil: OD from 0.012" to 0.1563", up to 3 layers rotational fidelity/motor, NURD (Non-Uniform Rotational Distortion), flexible hand rotated applications
Synchromesh Wirerope – twined wirerope for use on mini-pulleys, <1.04mm OD
ACTONE New Types
New Material: NiTi, NiTi+ stainless-steel, MP35N®
Coated: flat PTFE coated surface, inner & outer lumen PTFE coated, PU + Hydrophilic coat
Taper (Floppy, L-Grind)
Shaped: e.g., J-angle
Note: Please contact Asahi Intecc for any sizes/materials/configurations/assemblies which are not listed here. All R&D projects welcome!
Development and Manufacturing Examples
Angioplasty / Angiography Guidewires & Catheters
Embolization coil
Hydrophilic coated medical devices
Disposable high frequency snares
Micro catheters
Others
AIC has built an international reputation for quality, service, and low cost. We satisfy customers with our eminent technologies and quality control management system. Asahi Intecc takes pride in working closely with customers to innovate and develop, low-cost and high-quality products delivered on time around the world!
Contact Filmecc USA, subsidiary of Asahi Intecc USA