Clamping devices for use with tubing can be used to control the flow of IV fluids. Clamping deivces can be made from strong, durable plastic or may be disposable and made of a tricot base or a foam pad. Source IV products and tubing connectors for medical applications from this supplier directory.
Companies (1 results)

Qosina is a global supplier and one-stop source of over 5,000 single-use, off-the-shelf components to medical device and pharmaceutical ma...
Products (1 results)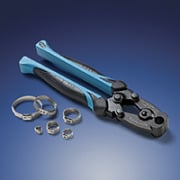 Qosina
Qosina's stainless steel, non-grease...