The L.S. Starrett Co.
Founded in 1880 and headquartered in Athol, MA U.S.A., The L.S. Starrett Company is a leading global manufacturer of precision measuring tools and gages, metrology systems, custom engineered granite solutions, custom gaging, force and hardness testing solutions, and more, which all play a vital role when ensuring a stringent quality control program for the manufacture of accurate medical parts. For over 135 years, industry has relied on Starrett for its exceptional quality and precision.

Medical parts inspection demands are increasing with tighter accuracies, traceability and the need for 100% inspection. To ensure accuracy, medical manufacturers must have unquestionable accuracy and repeatability with measurement and inspection equipment to enforce strict quality control processes. With a full range of metrology and vision systems, optical comparators, video measurement and force measurement solutions, and an exhaustive line of precision tools and gages, Starrett is the ideal source for solving medical manufacturing quality control challenges.



Metrology Systems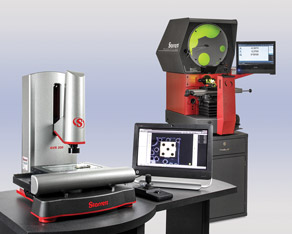 Starrett offers a wide range of comparator configurations and options including horizontal and vertical benchtop systems, floor standing models and side bed setups, all designed to provide high performance and cost-effectiveness. The broad range of metrology systems from Starrett are ideal for use in QC labs, research, engineering and manufacturing environments where small to large scale high-precision measurement is critical. Many systems are available in either manual or CNC configurations.








Optical Comparators provide a time tested, cost effective solution for non-contact measurement, and are used for many medical dimensional inspection requirements. Starrett offers a wide range of comparator configurations and options including horizontal and vertical benchtop and floor standing models, and side bed setups, all designed to provide high performance and cost-effectiveness.
Video-Based Measurement Systems combine high-resolution graphic images, powerful-intuitive software and precision mechanical platforms, to deliver superb accuracy and repeatable measurement results. A new large field-of-vision (FOV) Benchtop Vision Measurement System that is capable of being used in either a vertical or horizontal orientation, is now available.
Digital Optical Comparators are vision metrology systems that function like horizontal optical comparators, and offer an added benefit of having a DXF "digital overlay".
Material Testing and Force Measurement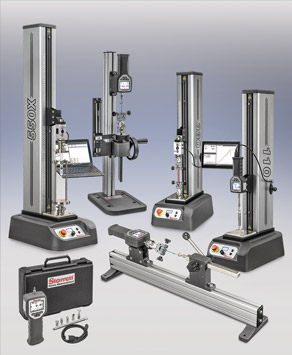 Starrett offers turnkey system solutions for material testing, force analysis and force measurement, all designed to make it easy to create and perform tests as well as manage the results. Starrett force measurement systems provide reliable, accurate and easy-to-use solutions for applications ranging from determining simple peak load measurement, load/extension at limits, or more complex break determination. A full range of test frames, software, load cell sensors, test fixtures and more are offered.
For example, medical adhesives, syringes, artificial skin, foam orthotics, stents, medical gloves and other medical products require critical and exacting measurements prior to commercialization. Starrett Force Testing solutions can be used to test medical devices for their form, fit and function. The ability to measure, analyze and collect data for exporting to quality control applications or to a network, make them a cost-effective solution for medical device manufacturers around the world.
Starrett L1 Force Measurement Systems
comprise its innovative, entry-level computer-based force testing solution. Optimized for production and quality control testing, they are easy to setup, operate and maintain. L1 Systems can be used to perform a wide variety of testing methods including Load Limit Testing, Distance Limit Testing, Break Limit Testing, Cyclic Count Testing, Cyclic Duration Testing, Constant Load Testing and Constant Distance Testing.
Designed for professional use in production and engineering environments,
Starrett L2 and S2 Force Systems
are manufactured to provide high performance test frames and multiple levels of software capabilities to perform demanding force measurement testing.
Starrett L3 systems
meet the requirements of today's research scientist, design engineer, quality manager or technician responsible for material characterization, verification and validation.
Gage Blocks
Quality starts with the application of primary standards for measurement and inspection. Starrett-Webber precision gage blocks are the primary standards vital to dimensional quality control in the manufacture of interchangeable parts. Starrett precision measuring tool accuracies are based on their traceability through its grand master gage blocks as certified by the National Institute of Standards and Technology (NIST).
Granite Surface Plates
Starrett offers Granite Surface Plates for accurate reference surfaces from which final dimensions are taken. They are ideal bases for mounting sophisticated mechanical, electronic and optical gaging systems. Starrett Granite Surface Plates are manufactured in three grades of accuracy including
laboratory
for precision operations in constant temperature gaging rooms and metrology departments,
inspection
for general work in quality control and
toolroom
for production checking work throughout the shop. Custom Granite Solutions are available as well.
Tools/Gages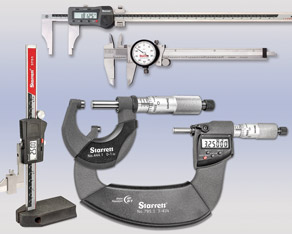 Skilled personnel, superior products, manufacturing expertise, innovation and excellent service and support have earned Starrett its reputation as the "World's Greatest Toolmakers". Starrett offers an extensive range of electronic and manual precision measuring hand tools, key for medical part inspection, including calipers, micrometers, depth gages, indicators and gage, height gages, bore gages, gage amplifiers and much more.
Hardness and Surface Testers
Starrett Hardness Testers are available in analog bench setups providing reliable Rockwell Hardness values on all types of metal and alloys, hard or soft, and in many shapes. Twin Analog configurations will measure Rockwell and Superficial Rockwell Hardness. Digital Motorized Bench Hardness Testers fully automate routines, reducing operator involvement and speeding up measurements. Starrett Hardness Testers are also available in compact, digital portable handheld models, designed to test the hardness of large, hard metal parts.
Surface Roughness Testers from Starrett are simple-to-use and provide high accuracy. The units are tough, shock tested and capable of withstanding the demands of a shop environment.
Custom Gaging Solutions
When off-the-shelf measuring products do not satisfy the needs of special quality control challenges, Starrett engineers will custom design and build a gaging solution to meet the medical manufacturer's needs. Starrett is the only precision measuring tool manufacturer to offer this unique solution.
General Company Facts
Starrett has over 1,600 employees worldwide and annual sales exceeding $200 million. The company has six manufacturing locations in the U.S.A., including facilities in Massachusetts, North Carolina, Georgia, Ohio, Minnesota and California. Starrett also has three international manufacturing facilities. Plants are located in Brazil, Scotland and China, in addition to distribution centers and offices located worldwide. The L.S. Starrett Company is publicly traded on the NYSE, symbol SCX.
Visit Starrett at these 2018 Trade Shows -
MD&M West (ATX West):
February 6-8, 2018, Anaheim Convention Center, Anaheim, CA - Booth #4247
BIOMEDevice:
April 18th & 19th, 2018, Boston Convention Center, Boston, MA - Booth #725
MD&M East:
June 12-14, 2018, Jacob Javitz Convention Center, New York, NY - Booth #611
IMTS:
September 12-17, 2018, McCormick Place, Chicago, IL - Booth #135532
Contact Information
For more information on Starrett visit
www.starrett.com
or contact Corporate Headquarters at 121 Crescent Street, Athol, MA 01331 U.S.A. Telephone: (978) 249-3551, Fax: (978) 249-8495, email:
[email protected]
, internet:
www.starrett.com
Featured Suppliers
Donatelle.... A Vital Partner of Medical Device OEMs At Donatelle, we make products that enhance - and save - lives. We are a leading contract manufacturer that helps bring critical medical devices and components to market - from design through del...

Nelson Labs, a Sotera Health company, is the industry-leading global provider of lab testing and expert consulting services. We perform microbiological and analytical laboratory tests across the medical device , pharmaceutical , protective barrier ...