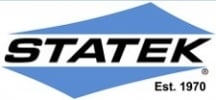 Statek Corporation
About Statek
In 1970, Statek Corporation was the first to use semiconductor technology such as photolithography, chemical etching and micromachining to manufacture quartz resonators in wafer form. Today, Statek remains at the forefront of innovation in the design, development and manufacturing of highly reliable, ultra-miniature quartz-based frequency control products.

For over 45 years, we have supported the medical industry with state-of-the-art crystals, oscillators, and sensors .
We offer a complete portfolio of frequency control products manufactured and tested to stringent high-reliability industry standards. Our dedicated commitment to the medical market makes us a preferred supplier to major medical device manufacturers.

All of our products are designed, manufactured and tested in the United States.

Click HERE for our Product Selection Guide.

Or HERE for Featured Medical Electronics.





Technological Capability
Statek's core competence is its ability to design and manufacture ultra-miniature resonators in quartz wafers using its patented photolithographic and chemical milling processes.

With complete vertical integration, Statek has total in-house control over the manufacturing of its products. From cutting quartz bars into wafers, through lapping and polishing the wafers, making arrays of resonators by processing the wafers in the Wafer Fab lines, to assembling the resonators in ceramic packages and sealing them, Statek has the complete in-house capability to manufacture and test high-precision, extremely rugged and reliable ceramic-packaged quartz crystal resonators, oscillators and sensors.

Variable-size batch processing permits a balance between production efficiencies and a high mix of standard and custom devices.

Medical RF Telemetry
As a recognized industry leader in the design and manufacture of high frequency AT-cut ultra-miniature quartz crystals, oscillators and sensors, Statek Corporation continues to be at the forefront of the medical RF telemetry market. Through direct collaborations with IC and medical device manufacturers, Statek has developed several ultra-miniature quartz crystals that meet the demands of the medical telemetry market. Key features include: ultra-miniature packages, fast start-up time and low power consumption.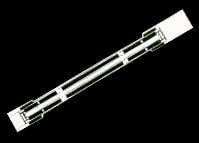 In addition to providing crystals at frequencies commonly used in medical RF telemetry applications, e.g. 14.7456 MHz, 16.0 MHz, 24.0 MHz, 26.5 MHz, and 32.0 MHZ, Statek also supports non-standard frequencies.

Materials
We cultivate long-term relationships with our domestic suppliers to ensure stable sources of high-quality materials. We manufacture our resonators with high-grade cultured alpha-quartz. To simplify and minimize the device circuitry, we use oscillator-dedicated integrated circuits. Lastly, we design our own ceramic packages, which are then manufactured by our sister company, AdTech Ceramics.

Product Continuity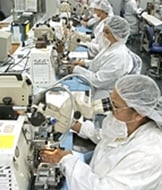 In addition to maintaining complete records and traceability, Statek provides the continuity of support required for long-term medical product life cycles.

Quality Assurance
The entire Statek organization is committed to ensuring that its products and services meet or exceed its customers' expectations. Through continuous improvement, Statek has developed a quality system that incorporates AS9100, ISO 9001 and Total Quality Management programs.


| | |
| --- | --- |
| Product Type | Typical Overall Dimensions |
| CX4 Crystal | 5.00 mm x 1.83 mm x 1.27 mm |
| CX9 Crystal | 4.10 mm x 1.50 mm x 0.87 mm |
| CX11 Crystal | 3.20 mm x 1.50 mm x 0.74 mm |
| CX11L Crystal | 3.20 mm x 1.50 mm x 0.51 mm |
| CX16 Crystal | 2.00 mm x 1.20 mm x 0.43 mm |
| CX18 Crystal | 1.55 mm x 0.95 mm x 0.35 mm |
| CXOL Oscillator | 3.20 mm x 1.50 mm x 0.95 mm |
| CXOQ Oscillator | 2.50 mm x 2.00 mm x 0.89 mm |
| CXOX Oscillator | 3.20 mm x 2.50 mm x 1.00 mm |
Overall sizes of Statek medical crystals and oscillators by product type
Contact Statek Corporation