Print or Interactive Digital Download Available
Lake Zurich, IL, February 23, 2021 –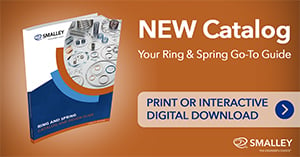 Find your next wave spring, retaining ring, and constant section ring in Smalley's newest Catalog and Design Guide release.
As the inventor of the edgewound wave spring with over 100 years of manufacturing excellence, Smalley has helped thousands of engineers and professionals create application-specific solutions across every industry.
Smalley's Catalog is an essential resource containing easy to follow product charts with detailed specifications to engineering equations and custom product support. Everything you need is right here in one complete guide!
"We manufacture 12 product types in 400 sizes with over 10,000 parts in stock, making the Smalley Catalog an important to have, easy and convenient way to access product information," said Robert Thompson, Smalley's Vice President of Marketing.
Catalog Features Include:
Part Specifications on over 10,000 rings and springs
Nested Spirawave® Series, Smalley's latest wave spring for high force applications
Expanded Sizes
Custom Design Configurations and Capabilities
Engineering Design Resources and Equations
Material Types and Finishes
And more!
Take your designs to the next level by downloading or requesting your print copy of the Smalley Catalog now:

###
About Smalley: As the inventor of the edgewound wave spring and with over 100 years of manufacturing excellence, Smalley is the Engineers Choice® in providing wave springs, retaining rings, and constant section rings for all your application needs. Smalley stocks over 10,000 standard parts across 30 configurations and 400 sizes. Prototype or production volume, our team of industry-specialized engineers and No-Tooling Charges™ manufacturing process meets the design flexibility your application, budget, and timeline requires. While all of our manufacturing is made in our U.S. based 300,00 ft2 facility, our global network of ISO 9001 and ISO 14001 company, we deliver quality products certified to IATF 16949, AS 9100, and ISO 13485. For manufacturing news and product updates, follow us on social media or follow our blog at smalley.com/blog.
Media Contact
Brendan Briscoe, | Marketing Operations Supervisor | +1-847-719-5900 ext. 5723 | [email protected]
View website