Sensirion to present new and enhanced sensor solutions at MD&M Minneapolis
Sensirion stands for innovative products, customer-specific solutions and excellent support. The company's products are among the leading products in the medical markets across the globe. Millions of patients rely on Sensirion sensors – integrated into respirators – every night. With its extensive range of mass and gas flow as well as differential pressure sensors, Sensirion offers the perfect sensor solution for every medical application.
At this year's MD&M Minneapolis, Sensirion is presenting new and enhanced sensor solutions for measuring humidity and temperature, gas flow and liquid flow as well as differential pressure. Visit Sensirion's booth #2416 to find out more about latest cutting-edge products.
Sensirion is one of the most innovative companies at MD&M Minneapolis
Hundreds of exhibitors will participate at MD&M Minneapolis and all will be trying to attract the attention of the visitors by presenting numerous new products. That's why the organizers of MD&M Minneapolis have chosen the five most innovative products to present on a guided and translated "Innovation Tour". One stop will be at Sensirion thanks to our innovative LD20 liquid flow sensor that is officially one of the top 5 most innovative products at this year's MD&M Minneapolis.
When registering at the main entrance, ask for the "Innovation Tour" or go directly to Sensirion and learn more about the product.
Single-use flow sensor for biomedical applications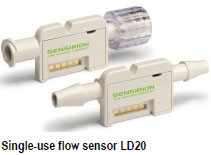 The LD20 series combines Sensirion's proven liquid flow sensing technology in a single-use, cost-optimized design for high volume applications in medical technology and the life sciences. The LD20 sensors provide a bidirectional measurement of flow rates from below 1 ml/h up to 1200 ml/h, while still reliably detecting common failure modes such as occlusion, free flow-, or air bubbles with unprecedented speed and sensitivity.
http://www.sensirion.com/ld20
Proximal flow sensors – now for neonatal flow measurements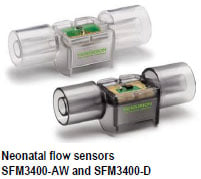 Sensirion's proximal flow meters are best suited for measuring air flow in respiratory applications such as ventilation and anesthesia. The product range has been expanded with a new sensor for flow measurements in neonatal and pediatric applications. All of Sensirion's proximal flow sensors feature a fast update time, high measurement accuracy and superior robustness. The fully calibrated and temperature compensated sensors are all available in a single-use or a reusable/autoclavable version.
www.sensirion.com/sfm3400
Creating space for your ideas with Sensirion's differential pressure sensor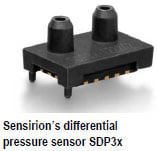 The SDP3x sensor's incredibly small footprint of just 5 x 8 x 5 mm3 opens up new dimensions of integration and application possibilities in the field of home care (portable devices) and e-health. Like all Sensirion flow sensors, the SDP3x features excellent accuracy and long-term stability and has no zero-point drift. Furthermore, the SDP3x sensor is reflow solderable and provides extended functionality such as multiple I2C addresses and interrupts. All this makes Sensirion's new differential pressure sensor the perfect choice for high-volume and cost-sensitive applications where size is essential.
www.sensirion.com/sdp3x
---
About Sensirion – Experts for Environmental and Flow Sensor Solutions
Sensirion AG, headquartered in Staefa, Switzerland, is a leading manufacturer of digital microsensors and systems. The product range includes gas and liquid flow sensors, differential pressure sensors and environmental sensors for the measurement of humidity and temperature, volatile organic compounds (VOC), carbon dioxide (CO2) and particulate matter (PM2.5). An international network with sales offices in the US, Europe, China, Taiwan, Japan and Korea supplies international customers with standard and custom sensor system solutions for a vast range of applications. Sensirion sensors can commonly be found in the medical, industrial and automotive sectors, analytical instruments, consumer goods and HVAC products.
One of the hallmark features of Sensirion products is the use of its patented CMOSens® Technology, which permits intelligent system integration of the sensor element, logic, calibration data and a digital interface on a single chip. Sensirion's credentials as a reliable supplier are underscored by its loyal customers, quality reputation (ISO/TS 16949) and top customer pedigree.
---
Contact: www.sensirion.com, [email protected], Tel. +41 44 306 40 00, Fax +41 44 306 40 30