Specialty Coating Systems announces hosting of webinar
August 17, 2020 (Indianapolis, IN) – Specialty Coating Systems (SCS) is pleased to announce that it is hosting a webinar on Tuesday, Sept. 1, 2020 at 2 p.m. EST. The webinar entitled, "Conformal Coating Protection of Critical Medical Technologies" will be presented by Rakesh Kumar, Ph.D., Vice President of Technology, and Dick Molin, Medical Market Manager. The webinar is now open for registration at: scswebinars.com.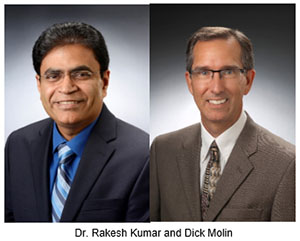 The reliability of critical components, systems, and devices takes top priority in today's healthcare environment. With the continued development of highly sophisticated capabilities to diagnose, treat and monitor patients comes the need to provide protection for these systems. Conditions often detrimental to the performance and longevity of these critical technologies include moisture, chemicals and gases that impact safety and effectiveness over time.
For more than four decades, Parylene conformal coatings have been used by design and manufacturing engineers to meet many of these challenges, while remaining biostable and biocompatible. This 60-minute webinar provides new insight into their attributes and discusses such benefits as:
Truly conformal, ultra-thin, and pinhole-free coverage (no voids or gaps)
Superior moisture and chemical barrier properties 
High dielectric strength in ultra-thin films
Dry-film lubricity/low coefficient of friction
Thermal stability up to 350°C long-term (450°C short-term)
Compatibility with common sterilization methods
Biocompatibility per ISO 10993 and USP Class VI
Although the coatings are used in the electronics, avionics/aerospace/defense, transportation, and energy markets, emphasis will be placed on medical applications, providing a glimpse into how Parylenes can benefit a wide range of medical devices and components.
SCS is a leader in Parylene coating services and technologies with coating facilities throughout the Americas, Europe and Asia. To learn more about SCS, please call +1.317.244.1200 or visit www.scscoatings.com.
About Specialty Coating Systems
Headquartered in Indianapolis, IN, SCS is the worldwide leader in Parylene conformal coating services and technologies. As the direct descendant of the companies that originally developed Parylene, SCS has over 45 years of experience and expertise that it leverages for its customers through coating facilities throughout the Americas, Europe and Asia. The company also offers industry-leading liquid coating systems including spray, spin and dip coating systems and ionic contamination test systems. For more information on SCS, please visit www.scscoatings.com.
###
Media Contact
Carla Gillespie
Director of Marketing Communications
7645 Woodland Drive
Indianapolis, Indiana 46278 USA
T 317.472.1290
M 317.701.8642
E [email protected]
View website