The world's smallest differential pressure sensor is now available.
The SDP3x, the world's smallest differential pressure sensor, is now available in an airspeed sensor development kit for VTOL (vertical take-off and landing) and fixed-wing UAV (unmanned aerial vehicle) applications. The reference design was developed in collaboration with PX4 Pro and is fully integrated with the open source autopilot. The integration includes a full aerodynamic software compensation model for the sensor and pitot tube, making it a plug-and-play solution.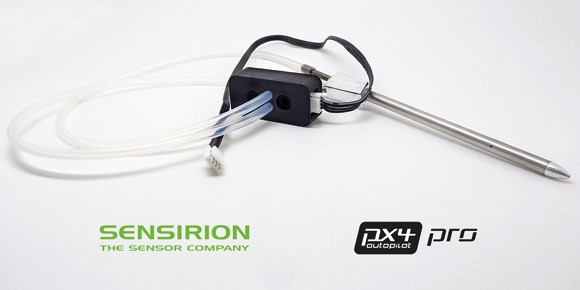 Most airspeed sensors require calibration before every flight to guarantee accuracy, and are not sensitive enough to produce reliable readings at low airspeeds. The fully calibrated and temperature-compensated SDP3x sensor solves these problems and offers unprecedented accuracy and resolution. The calibration-free setup enables instant launch of VTOL drones, dramatically increasing the user experience for end users. And high sensitivity at low airspeeds allows closed-loop control during the transition phase from hovering to forward flight, increasing the reliability and safety of VTOL drones.
The outstanding performance of the SDP3x sensor is based on Sensirion's CMOSens® sensor technology, which combines the sensor element, signal processing and digital calibration on a small CMOS chip. The differential pressure is measured by a thermal sensor element with flow-through technology.
The development kit is available from our launch partner Drotek:
https://drotek.com/shop/en/home/848-sdp3x-airspeed-sensor-kit-sdp33.html
More information:
Drotek: https://drotek.com/
Sensirion's airspeed sensor: https://www.sensirion.com/sdp3x-drones
PX4-Pro: http://px4.io/
About Sensirion
Sensirion AG, headquartered in Staefa, Switzerland, is the world's leading manufacturer of digital microsensors and systems. The product range includes humidity and temperature sensors, mass flow controllers, gas and liquid flow sensors, and differential pressure sensors. An international network with sales offices in the USA, Germany, China, Taiwan, Japan and Korea supplies international OEM customers with tailor-made sensor system solutions for a vast range of applications. Among other things, these include analytical instruments, consumer goods and automobiles, as well as the medical and HVAC industries. One of the hallmark features of Sensirion products is the use of patented CMOSens® Technology. CMOS-based sensor elements and systems permit intelligent system integration, including calibration and a digital interface. Sensirion's credentials as a reliable OEM supplier are underscored by its ISO/TS 16949 certification.
Contact: www.sensirion.com, [email protected], Tel. +41 44 306 40 00, Fax +41 44 306 40 30