At the IMTS in Chicago FOBA will showcase its innovative marking feature MOSAIC, a significant improvement in automated mark alignment, for the first time in the US. A reliable vision-based laser marking process is now even feasible when products are placed without any fixtures in the marking field.
Selmsdorf, July 2018 – FOBA Laser Marking + Engraving will be showcasing three different laser marking systems at the IMTS show (Chicago/USA, September 10 – 15, 2018): The mid-size M2000 laser marking station is equipped with the latest marking software MarkUS 2.12 including the MOSAIC feature. Parallel to the official market release, FOBA will demonstrate at the show that the integrated camera makes expensive fixture devices unnecessary while still guaranteeing highly accurate laser marking results.
At booth 23-236024 (Hall North Building), FOBA's M1000 marking station will also be on site for sample marking demonstrations. The compact machine comes with a 20 Watt fiber laser and vision system IMP (Intelligent Mark Positioning).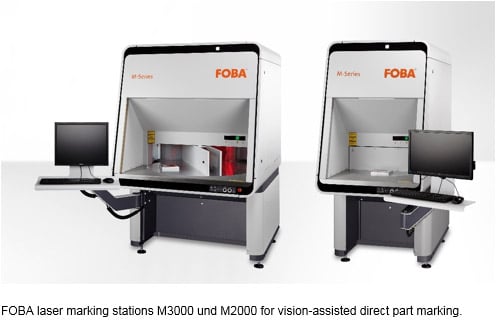 The FOBA show team will furthermore have the marking station M3000 at the booth, the most spacious M-Series model, to demonstrate sample marking with an innovative fiber laser designed especially for paint removal on plastic parts. This innovative marking system creates highly precise day-night-design symbols, which are mainly used for automotive and electronic applications. The machine is also equipped with a rotary table for efficient product exchange and a backlight for enhanced part contour contrast.
FOBA's business manager, Software and Vision, Dr. Faycal Benayad-Cherif, is available on site to provide information especially about the patent-pending MOSAIC technology. The new software feature is a great benefit that makes the marking process more efficient and provides significant cost-savings.
FOBA MOSAIC uses an integrated camera that is positioned directly above the marking field and – without perspective inaccuracies – reproduces a mosaic-like tiling of the entire marking field including the displayed parts. The to-be-marked parts are then laser-aligned and laser-marked with precision.
The M3000 marking systems comes to the IMTS with another innovative improvement: a lighting system made of four components around the marking field that creates diffused lighting to prevent surface reflections. The lighting can be dimmed by pairs and is particularly shock resistant.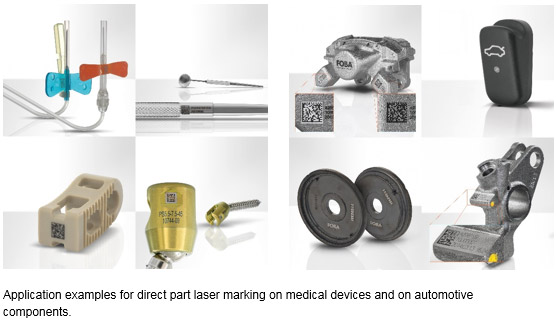 FOBA Remote Service (FRS), a new proposal by FOBA's technical customer support, indicates another step towards industry 4.0 and will also be demonstrated at the show. A mobile modem transfers operational data from the customer, enables pro-active support by the FOBA technicians and contributes to optimized marking processes and machine functionality.
Visitors can pre-arrange an appointment at the show or get free tickets, please contact [email protected] or phone +49 38823 55-556.
Alltec GmbH | FOBA Laser Marking + Engraving
www.fobalaser.com
For additional information and to forward reader responses please contact:
Susanne Glinz | Campaign Manager
ALLTEC GmbH | An der Trave 27 – 31 | 23923 Selmsdorf/ Deutschland
Tel.: +49 (0)38823 55-547 | Fax: +49 (0)38823 55-222
[email protected] | www.fobalaser.com
About FOBA www.fobalaser.com
FOBA Laser Marking + Engraving is among the leaders in manu­factur­ing and supplying precision laser systems for marking and engraving. FOBA marking lasers mark a variety of materials and parts not least in the key markets of Automotive and Medical but also in Electronics, Plastics, Safety and ID. FOBA laser workstations for marking and engraving are especially applied in the fields of Automotive part production and Medical device marking as well as in Tool, Metal and Mold Making, Plastics processing and Jewelry. Worldwide sales and service branches service the most important markets.
In September 2009, FOBA has become part of ALLTEC GmbH. Since then, FOBA is part of ALLTEC as a sales channel for laser part marking and engraving.