Omnetics Connector Corp.
Omnetics Connector Corporation designs and manufactures high-grade micro and nano miniature electrical connectors ideally suited for high tech applications where size and quality are critical. These connectors conform to mil-prf-83513 and are designed specifically for use in industries such as medical electronics, defense, aerospace, and avionics.
Featured Suppliers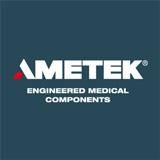 AMETEK Engineered Medical Components (EMC) has served the medical device industry for more than 40 years, and consists of three leading brands: Avicenna, Technical Services for Electronics (TSE), and Laserage. Each business is an expert its respect...