Microlap Technologies, Inc.
Microlap Technologies Inc. is a leading U.S. manufacturer of high-precision components made from ultrahard materials, such as synthetic ruby and sapphire, silicon nitride, ceramic, and other hard materials. The company's precision products are custom manufactured to meet exact specifications, including extremely tight tolerances.
Featured Suppliers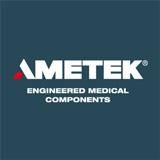 AMETEK Engineered Medical Components (EMC) has served the medical device industry for more than 40 years, and consists of three leading brands: Avicenna, Technical Services for Electronics (TSE), and Laserage. Each business is an expert its respect...