Medbio announces the opening of a second world-class manufacturing facility
Grand Rapids, Mich., January 29, 2019 –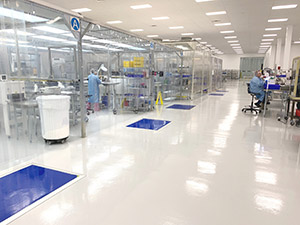 Medbio, an outsource manufacturer offering innovative design and engineering, manufacturing, assembly and packaging solutions for the medical and biotechnology industries, is pleased to announce the opening of a second world-class manufacturing facility. This newly renovated 25,000-square-foot facility is adjacent to Medbio's current 65,000-square-foot building; it will provide an additional 12,000 square feet of clean room space and house the company's medical device and diagnostic assembly and packaging operations.
"Medbio has experienced strong and steady growth, driving the need for additional manufacturing capacity and clean room space" said John Woodhouse, Director of Sales and Marketing for Medbio. "Moving our assembly operations into the new facility allows us to significantly expand existing clean room space, enabling us to add several] new molding presses."
The new addition addresses Medbio's key strategic growth objectives, including expanding production capabilities, improving operations, and being a high-growth leader in the marketplace. "Additionally, this expansion enhances our ability to better support our customers' growth and provide the best service and lead times possible," concluded Woodhouse.
About Medbio, Inc.
Medbio (www.medbioinc.com) is an ISO 13485:2016-certified medical contract manufacturer, specializing in clean room injection molding, assembly, and packaging, with clients based throughout the U.S., Europe, and Central America. Medbio is currently building products for the orthopedic, cardiovascular, ophthalmology, neurology, and biotechnology OEMs. Medbio has posted 14 years of growth, been honored as an Edward Lowe "Michigan 50 Companies to Watch," and recognized in the Inc. 5000 list of fastest-growing private companies in America. Follow us on Facebook and LinkedIn.
# # #
CONTACT:
John Woodhouse
(616) 245-0214 Ext. 113
Medbio, Inc.
[email protected]
View website