Leading Contract Manufacturer Grows Advanced Silicone Tooling and Molding Operation in Royalton, VT
Bethel, Vermont – In response to its growing Liquid Silicone Rubber (LSR) healthcare manufacturing business, advanced contract manufacturing and injection molding company GW Plastics, Inc. has announced another expansion of its affiliate, GW Silicones. This additional expansion will create space for multiple new programs the company is launching to support its steadily increasing healthcare business.
The expansion includes an additional 3,000 ft² of Class 8 cleanroom space capable of housing up to 8-10 new injection molding machines. GW Plastics plans to invest about $2M in construction, new technology, and equipment. This is the fourth expansion of GW Silicones since its inception in 2008, and comes on the heels of a just-completed 30,000 ft² expansion of GW Plastics' Royalton, VT Manufacturing and Technology Center earlier this year.
GW Plastics first established its silicone manufacturing footprint with just one molding machine in its Process Development Center in Royalton. Over the past 12 years, GW Silicones has quickly grown into a trusted partner supplying market leaders with precision silicone solutions. Now with a dedicated, state-of-the-art operation offering highly-automated Class 8 cleanroom tooling, molding, and assembly, GW Silicones is continuing to grow at a rapid rate.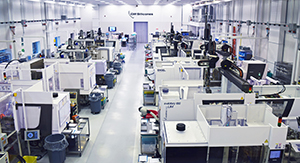 With this new expansion, GW Silicones will operate from a 12,000 ft² Class 8 ISO 9001 and ISO 13485-certified cleanroom. The cleanroom is equipped with all-electric and hybrid molding machines, giving GW Silicones the ability to tightly control the process and guarantee consistency. Multiple screw and barrel assemblies for each press allow for the molding of parts from fractions of a gram to larger pound shots, providing an extremely wide range of molding capabilities. In keeping with GW Plastics' highly-automated manufacturing platform, GW Silicones has incorporated 6-axis robots that operate within the machine envelope, enabling both insert-loading and molded-part extraction.
In addition to their Liquid Injection Molding (LIM) capabilities, GW Silicones also specializes in precision LSR mold-making. Because of their in-house LSR tool design-and-build expertise, GW has been able to continuously offer their customers the option of building high cavitation, fully-automated, tight tolerance LSR molds designed for manufacturing at a lower cost with world-class lead times. GW Plastics has invested millions of dollars into their Tooling Division during the past few years to include more automation and improved technologies, providing additional resources to expand into
LSR tooling. "Working closely with our in-house thermoplastics Mold Division has allowed for this type of flexibility, improvement, and growth," says Mark Hammond, GW Silicones General Manager. "There are not many companies who can say that they have the capabilities to build molds like these, and we could not be prouder or more excited for the future."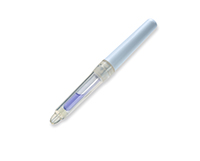 The ability to mold multi-material (thermoplastics and LSR) components such as two-shot, insert, or overmolded parts has become a specific skill of GW Silicones, and one that gives them a particular niche in the molding marketplace. LSR can be used to create complex molded parts with finer detail and tighter tolerances than are often possible with other materials. When molded onto thermoplastic substrates, the resulting multi-material performance options are numerous. Their familiarity with the demands of LSR processing and their knowledge of material properties allows GW Silicones to assist their customers in ways most LSR molders cannot. One such application is a surgical suture pen, for which GW Plastics and GW Silicones worked together with a leading OEM to redesign a multi-material device that performed better for surgeons.
The field of LSR molding is a challenging one. Industry experts recognize there are very few LSR molders capable of manufacturing precision, flashless components and assemblies. Most are equipped to manufacture only the most basic LSR products, not the high precision, close-tolerance, complex LSR applications that require a specialist like GW Silicones. GW Silicones' customers know that it takes a unique combination of capabilities, expertise, and resources to get the job done quickly, effectively, and successfully the first time.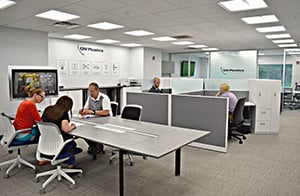 Having in-house LSR molding, tooling, and product development capabilities provides strategic benefits to GW Plastics' customers. "Everything stems back to our people, technology, and communication. There is no greater benefit than having talented mold designers, program managers, and process engineers all under one roof," says Brenan Riehl, GW
Plastics President and CEO. "Our ability to provide product design assistance early in the development process, combined with world-class, in-house tooling and global production capabilities allows us to offer innovative, high-quality, cost-effective solutions to our customers."
Today, GW Plastics' Manufacturing and Technology Center in Royalton has grown into a 24-acre campus that houses their Product Development Center, Process Development and Training Center, Mold Division, thermoplastic molding facility, and GW Silicones. The Manufacturing and Technology Center is home to some of GW Plastics' most sophisticated technology, including 3D printers for plastic and steel to support prototyping and mold-making, as well as robotically-assisted injection molding and contract manufacturing. With the latest LSR expansion, the Manufacturing and Technology Center will cover 100,700 ft² of advanced manufacturing space.
---
About GW Plastics:
Founded in 1955, GW Plastics has earned a reputation as an industry leader in precision tooling, injection molding, and contract manufacturing serving the world's most successful companies in the healthcare, automotive safety-critical, and filtration markets. Specializing in complex injection molded thermoplastic and silicone solutions, GW Plastics excels at close tolerance mold building, precision injection molding, and contract manufacturing. With leading-edge technologies, a Six Sigma quality commitment, and a relentless pursuit of innovation, GW Plastics continues to attract and partner with market leaders who seek consistency of ownership, financial stability, professional leadership, business integrity, a high-tech standardized global manufacturing platform, and a highly-trained and experienced workforce. Headquartered in Bethel, Vermont, the company's standardized ISO 9001, ISO 13485, ISO/TS 16949, and FDA-registered, 21 CFR Part 820 compliant manufacturing facilities are located in Bethel and Royalton, Vermont; Grantham, New Hampshire; San Antonio, Texas; Tucson, Arizona; Querétaro, Mexico; Dongguan, China; and Sligo, Ireland. GW is a Plastics News' Processor of the Year and Sustained Excellence award winner.
For more information, visit GW Plastics' website.