At Medtec Europe FOBA will present its patented Autofocus for the first time in Europe – UDI keeps dominating the business
February 1, 2017
UDI remains a big topic among medical device manufacturers in Europe. Since November 2016, the US-American FDA (Food and Drug Administration) is enforcing its UDI-rules and could also check European companies for compliance. The plans for a similar European system – the MDR (Medical Device Regulation) – are progressing fast as well. Based on the technical solutions and on the fact that more and more classes of medical devices fall under the UDI regime, more and more small devices need a directly applied mark on it. FOBA shows in Stuttgart, Germany, how even smallest codes can be directly applied by laser technology in a highly efficient way.
A new feature that makes marking with FOBA even easier is the patented autofocus. Since the beginning of this year, it's part of the latest version of the marking software MarkUS. It reduces the change times and makes it easier for the user to set up and perform new marking jobs. In Stuttgart, FOBA's autofocus will be presented for the first time to a broad audience in Europe. Dr. Faycal Benayad-Cherif, Business Manager Vision & Software, will explain it at the FOBA booth. On April 6, 2017, he will also deliver a speech on the challenges and solutions for UDI marking at the Medtec Forum. What are its physical limitations? Laser can apply tiny codes, that most scanners cannot even read. That's why FOBA is also working closely with manufacturers of scanner systems. Dr. Benayad-Cherif will also point out what investments are necessary, to meet UDI requirements. Many companies, especially smaller ones, still struggle with implementing the UDI-system within their facilities. A lot of them have considered withdrawing from the US market.
Underlining its excellent reputation in the medical sector, Christian Söhner, Medical Market Development Manager, will be the second FOBA-speaker at the Medtec Europe. Together with the South German medical cluster MedicalMountains, he has initiated a MedTalk where manufacturers of laser marking solutions present the advantages of their systems in 15 minute speeches. The Talk explains the technical side, but also answers questions like persistence and readability of markings on surgical instruments after passivation and reprocessing cycles. The talk starts on April 4, 2017, at 10am.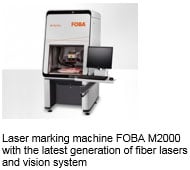 At FOBA's booth #3C20 the company, that manufactures and develops its machines and software near Hamburg, will present two standalone systems of their M-Series, the M1000 and M2000. Both systems are equipped with the new autofocus and the vision system. A vision system is necessary for HELP (Holistic Enhanced Laser Process), a closed loop marking process with three stages. While developing this unique process, FOBA's engineers had a strong focus on the needs of medical customers with their huge variety of different products. In the first stage, camera and software recognize the parts and their position in the marking field and check if they already carry a mark. Then the system pulls the right marking content out of the database and the laser applies it at the exact position. In the third stage, camera and software check the quality and the content of the mark and compare it to the expected content. This process saves time and a final code inspection by a worker.
In live demonstrations FOBA's laser expert will show HELP as well as the autofocus on different materials.
More information: www.fobalaser.com
For additional information and to forward reader responses please contact:
Armin Fera | Campaign Manager
ALLTEC GmbH | An der Trave 27 – 31 | 23923 Selmsdorf/Germany
Tel.: +49 (0)38823 55-544 | Fax: +49 (0)38823 55-222
[email protected] | www.fobalaser.com
About FOBA
FOBA Laser Marking + Engraving is among the leaders in manu¬factur¬ing and supplying precision laser systems for marking and engraving. FOBA marking lasers mark a variety of materials and parts not least in the key markets of Automotive and Medical but also in Electronics, Plastics, Safety and ID. FOBA laser workstations for marking and engraving are especially applied in the fields of Automotive part production and Medical device marking as well as in Tool, Metal and Mold Making, Plastics processing and Jewelry. Worldwide sales and service branches service the most important markets. In September 2009, FOBA has become part of ALLTEC GmbH. Since then, FOBA is part of ALLTEC as a sales channel for laser part marking and engraving.