Eurofins Medical Device Testing

From implants and instruments, to single-use and combination products, as well as active electronic devices, Eurofins Medical Device Testing provides the optimal strategy for all types of medical devices and deliver rapid turnaround times with the highest level of service and most advanced technologies.

With extensive knowledge of the commercialization process, regulatory requirements and scientific trends in the Medical Device Industry, our scientists and engineers have been assisting companies, large and small, with developmental testing and regulatory submissions for more than 40 years.

Our >20 state-of-the-art facilities throughout North America, Europe and Asia Pacific offer extensive capacity and the highest level of instrument technology, enabling us to provide the full scope of testing services required by the Medical Device Industry, including:


Analytical Chemistry - Our chemistry laboratories are equipped with nearly 400 HPLCs and 100 GCs with more than 600 detectors.
Microbiology - We offer validations for terminal sterilization, as well as for reprocessing of reusable devices and environmental monitoring to support your clean manufacturing facilities.
Biocompatibility - Our global biocompatibility team includes a vast group of certified veterinarians, pathologists and toxicologists.
Electrical & Mechanical - We perform testing of active medical devices for compliance to electrical requirements of ISO 60601.
Package Testing - We provide the full range of testing required to assess every aspect of product packaging, from sterile seal integrity through pallet-level transit testing, as well as label durability and UDI compliance.
Stability Testing & Storage - Over 187,000 cubic feet of environmental chamber space for accelerated and real-time stability and aging studies.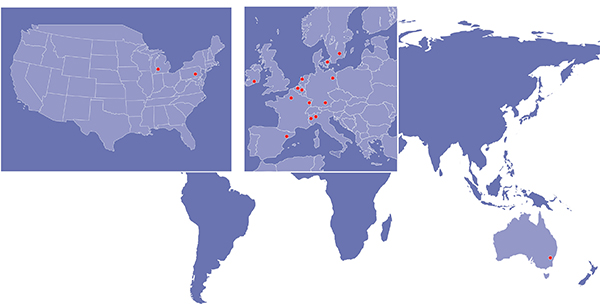 Click here for a complete listing of testing services for each country.
Quality Systems & Comprehensive Services
Eurofins Medical Device Testing can help develop and execute your test plans and navigate the regulatory pathway to market anywhere in the world. Our laboratories maintain quality systems compliant with cGMP, GLP, and ISO 17025, and conducts testing in accordance with ISO, ASTM, ANSI, AAMI standards, as well as custom test methodologies to meet the unique needs of our customers.
Our comprehensive services include:
Chemical / Physical Analysis



Extractables & Leachables
Material & Product Stability
Dissolution
Raw Materials Purity
Particle Characterization
Residual Ethylene Oxide
Uni- axial Mechanical Testing
Surgical Mask Testing

Microbiology & Sterility



Sterility / Sterility Validations
Bioburden
Endotoxins
Antimicrobials / Infection Control
Cleaning & Reprocessing Validations
Bacterial Identification
Surgical Mask Testing

Packaging & Seal Integrity



Container Closure
Sterile Barrier
Package & Transit Testing
Shelf Life & Accelerated Aging
Label Durability
Distribution Testing

Biocompatibility Testing



Chemical Characterization
Toxicological Risk Assessment
Cytotoxicity
Hemocompatibility
Genotoxicity
Irritation
Sensitization
Toxicity
ISO 18562
In Vitro Testing

Combination Products



Drug Release and Dissolution
Chemical Compatibility
Stability
Container & Closure Integrity
Syringe Testing

Electrical Medical Equipment



Cyber Security
Safety & Performance Testing

Materials & Chemical Characterization



Metallurgical Engineering & Characterization
Polymer Chemistry
Microscopy & Morphology
Surface Analysis
Materials & Chemical Characterization
Package Material Testing

 
Working With Us
Our team of highly trained experts can help guide you through the complex regulatory landscape and develop the optimal strategy for your medical device testing needs. An assigned project manager will serve as your single point of contact to access the full capabilities across the global Eurofins Medical Device Testing network to cover the full range of testing your product requires. Our innovative online data access tool LabAccess.comSM offers a timely and secure window to comprehensive laboratory information as your project progresses. With LabAccess.com, you can view extensive, live project information such as submitted samples, analysts' notebooks, chromatograms, approved test results, reports, Certificates of Analysis, raw data packages and invoices 24 hours a day, 7 days a week.
Contact Eurofins Medical Device Testing