Donatelle announces the recent expansion of its ISO 7 (class 10,000) clean room capabilities to meet growing demand for medical device assembly and sterile packaging
NEW BRIGHTON, MN – November 4, 2022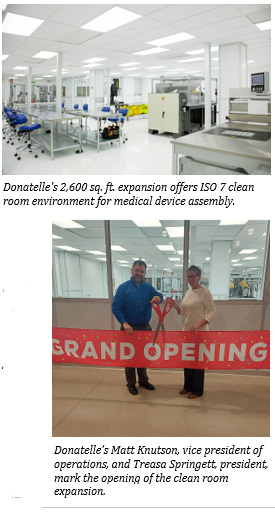 – Donatelle, a world-renowned medical device contract manufacturing company, announced today the recent expansion of its ISO 7 (class 10,000) clean room capabilities to meet growing demand for medical device assembly and sterile packaging.
"This is a very exciting time of growth for Donatelle," said Treasa Springett, Donatelle president. "We are committed to staying ahead and abreast of industry best practices, innovations and evolving regulations – and to prudently invest in the resources to do so. We will continue to add equipment and facilities to ensure we are agile and ready to support our customers in manufacturing products that change lives."
After successfully bidding to design, develop and assemble a game-changing new medical device slated for launch in early 2023, Donatelle commissioned the new clean room.
The new clean room features advanced automation technology for assembly, testing, welding, and packaging and labeling to provide even faster turnaround for customers. At 2,600 square feet, the new cleanroom effectively expands the contract manufacturer's clean room facilities for Class I, Class II and Class III medical devices, and extends its high-volume production capabilities to support tens of millions more components per year.
In addition, to meet growing demand for molding capabilities, Donatelle plans to further expand its ISO 8 clean room molding capabilities next year.
To learn more about Donatelle, visit donatellemedical.com
About Donatelle
For more than 55 years, the best, most recognized names in the medical device industry have relied on Donatelle to help bring their products to market. From a single manufacturing process to a complete solution, for high- and low-volume needs, the contract manufacturer's vertically integrated services span medical device design, development and prototyping through validation, manufacturing, assembly, barcoding, packaging, labeling and sterilization management.
The Donatelle team of engineers, designers, machinists and toolmakers – all in one location – work closely with customer teams to scientifically determine the most reliable, accurate and cost-effective parameters for medical products. The state-of-the-art facility features controlled environments and ISO 7 (class 10,000) certified cleanrooms.
###
For media inquiries, please contact:
Cindy Dupay
[email protected]
651.746.2919
View website