Codan US Corporation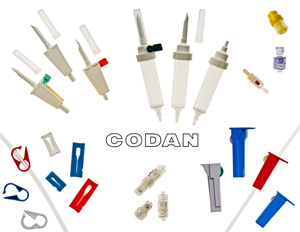 COMPONENT PRODUCTS - CODAN offers German-engineered bulk, non-sterile components manufactured at CODAN facilities in Europe. Over 85 molding presses run around the clock, in conjunction with automated machinery, to supply drip chambers, roller clamps, connectors, injection sites, spikes, check valves and other high quality components to customers worldwide. By building our own state-of-the-art production machines in-house, CODAN ensures top quality, reliability and control of all the manufacturing processes. This in turn enables us to respond quickly and efficiently to changing client requirements.


All products are latex-free and

non-DEHP

PVC-free products available.
German e...