Scapa Healthcare introudces Scapa Soft-Pro® Hydrogel Wound Contact Layer
29 November 2017
Scapa Healthcare, a trusted strategic outsource partner of turn-key skin friendly adhesive solutions, introduces Scapa Soft-Pro® Hydrogel Wound Contact Layer, a line of absorbent, non-adherent dressings for painful wounds and burns.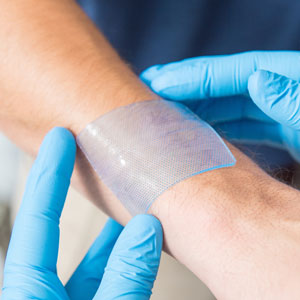 The absorbent nature of Scapa's Hydrogel Wound Contact Layer creates an optimal moist wound healing environment, managing wound exudate and minimizing dressing changes. The dressing is ideal for painful, acute and chronic wounds with high levels of exudation including leg ulcers and burns.
The proprietary non-adherent hydrogel formulation is gentle to the wound bed and helps to reduce pain by providing a cooling sensation upon contact with the affected area. The dressings are highly conformable and contour to the most challenging anatomical locations.
As a strategic partner, Scapa Healthcare strives to provide its customers with solutions that have a positive impact on patients' lives", said Brian Coughlin, Vice President of Global Sales. "Our new Soft-Pro® Hydrogel Wound Contact Layer offering gives our customers access to a proven technology, in a market-ready dressing for rapid introduction into the market."
Scapa Soft-Pro® Hydrogel Wound Contact Layer line is available for private label to healthcare companies looking to expand their advanced wound care product portfolio.
Scapa Healthcare is a global strategic outsource partner of turn-key skin friendly adhesive solutions for the healthcare industry. Scapa Healthcare partners with market leaders to design, develop, manufacture and commercialize innovative medical device products. Scapa Healthcare operates within three market segments: Advanced Wound Care, Consumer Wellness and Wearable Medical Device markets.
For more information, visit: www.scapahealthcare.com
###
About Scapa Group, plc
Scapa Group plc is a global supplier of bonding solutions and manufacturer of adhesive-based products for the Healthcare and Industrial markets. At Scapa, we base our approach on a deep understanding of our core markets. This understanding allows us to anticipate tomorrow's customer needs and to enable our customers to succeed in dynamic markets.
Further information on the Scapa global product portfolio of bonding products and adhesive components can be found on www.scapa.com | www.scapahealthcare.com | www.scapaindustrial.com
Media Contact
Beth Schivley
Marketing Communications Manager
+ 1 860 902 8157
[email protected]
View website