Lawrenceville, GA March 12, 2010 -- Optima EPS, an Elma Company, and leading designer and manufacturer of cabinet enclosures for electronic systems, now offers desk/consoles with several features that are beneficial in medical applications.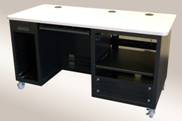 Optima's O-Series Desks and Consoles incorporate a modular design for use in a wide range of applications. The medical electronic desk system is used in physician's offices and hospital lab environments and will often house various analytical, diagnostic, and data storage devices/equipment. As space is a premium in most doctor's offices and labs, the O-series is designed for efficiency. There is a fold-down shelf, a slide-out printer shelf, a computer tower bay, and a retractable keyboard. The desks include provisions for monitor arms for LCD displays and cable management access. For computer and diagnostic equipment, there are optional vented panels for airflow. Power accessories are also available.
The medical desk system also features a quick-release rear panel with handle grips. This can be useful in accessing equipment easily. Locking and non-locking casters are optional, allowing easy repositioning of the desk. Various color options are available with a wide range of laminates and to prevent snagging the desk corners are rounded.
For more information, visit www.optimaeps.com or call 770-496-4000.
About Optima, An Elma Company
Optima EPS has been designing, manufacturing, and distributing quality electronic enclosures, enclosure systems, server racks, cabinets, security consoles, vertical racks, and telecom enclosures since its founding by Scientific-Atlanta, Inc. in 1962. In 1986, Optima joined Gichner Systems Group (Dallastown, PA), one of the world's leading manufacturers of transportable military shelter systems. As of April 1, 2004 Optima was acquired by Elma Electronic Inc. Today, Optima serves leading electronic and communications OEMs throughout North America from its headquarters near Atlanta, Georgia. The highly-engineered products, whether custom, modified-standard or standard designs, are manufactured to meet customer specifications. They are also distinguished by an extruded aluminum construction offering a high strength-to-weight ratio and a contemporary appearance.