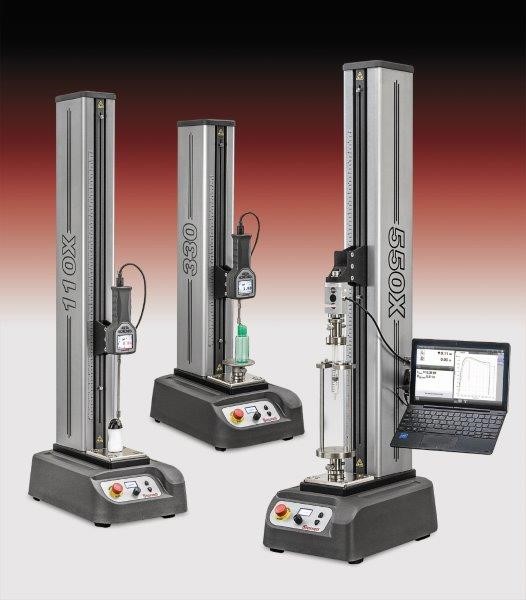 The L.S. Starrett Company (www.starrett.com) has introduced a series of Motorized Digital Test Frames for performing a wide range of basic, high volume in-situ lean manufacturing force testing applications including tension, compression, flexural cyclic, shear and friction. The Starrett FMM Digital Force Testers are part of the new Starrett L1 Line of entry level computer-based force measurement solutions. Optimized for production and quality control testing, the versatile, innovative architecture of the L1 system is designed for fast, easy-to-use, reliable and repeatable operation. To view a video and request a brochure visit (http://starrett.co/2FvliDf).
What makes Starrett FMM Force Testers exceptionally unique is their ability to be used with either Starrett L1 software for computer-controlled testing, or with a Starrett DFC Digital Force Gage. The DFC gage lets users control the speed and travel of the FMM Series, providing a single operator interface for control and testing. Using the DFC Series on an FMM test frame, load, distance and break limit testing can be performed simply at an economical price and with excellent accuracy of better than 0.1%
"The FMM Test Frames were designed to operate two ways – with our L1 software for customers seeking full computer control in a MS Windows environment, or via our DFC Force Gage mounted on the column for customers preferring maximum application versatility and cost effectiveness," said Mr. Emerson Leme, Head of Metrology Equipment Division at Starrett. "It's a revolutionary concept."
The Starrett L1 software offers simple, fill-in-the-blank templates that let users create, perform, measure and analyze their test in seconds and perform limit testing, break testing, constant hold testing, cycle testing and more. Touch screen control simplifies operation and the high resolution display shows results in tabular and graphical formats. Tolerances can be applied for immediate pass/ fail indication. Raw data can be exported to Excel for reporting and statistical analysis.
Starrett FMM Series Test Frames are available in three force capacities: 110lbf, 330lbf and 550lbf (500N, 1500N and 2500N), and are furnished in a standard travel length (20-inches/ 508mm) or an extended travel length (30-inches/ 760mm). FMM test frames feature a small footprint for small work spaces. The frames are just 11 inches wide by 16 inches deep. All frames have a speed range from 0.02 to 40 inches per minute (1 to 1000 mm/ min). Position accuracy on the FMM test frames is better than 20 microns and speed accuracy is better than 0.1% at full load and at maximum speed. Jog keys and an LED display aide manual operation. Adjustable travel limits may be used to prevent over-travel conditions.
The FMM test frames also feature an adjustable base plate made of cast aluminum for exceptional rigidity and durability. Inspectors may use metric or imperial threaded test fixtures and clevis adapters. The base plate is adjustable so that sample alignment can be performed in seconds without special tools.
The Starrett FMM Testers' mechanical design incorporates a preloaded, grounded ball screw with a linear rail for precise, repeatable travel. Frames are capable of performing hold tests as well as cyclic testing for up to 27 hour durations. Bench clips are supplied if users want to permanently secure the frame to their work bench.
The FMM test frames are CE compliant and have USB and RS-232 communication. Plus, the frames have configurable I/O for use with annunciators or other external devices.
When more sophisticated and complex testing is required, Starrett also offers a range of force solutions via its L2, S2, L2 Plus and L3 Systems. Starrett force measuring equipment is manufactured in the U.S.A. and is available to order now in several configurations including Handheld Force Gages and digital and manual Force Testing frames.
About The L.S. Starrett Company
Founded in 1880 and headquartered in Athol, MA U.S.A., The L.S. Starrett Company (www.starrett.com) is a leading global manufacturer of precision measuring tools and gages, optical comparators and vision systems and force and hardness testing solutions. Starrett also manufactures laser measurement systems, custom engineered granite solutions, custom gaging, band saw blades, power tool accessory saw blades, workshop tools and jobsite tools. The Starrett brand is recognized throughout the world for exceptional quality and precision. Skilled personnel, superior products, manufacturing expertise, innovation and excellent service and support have earned Starrett its reputation as the "World's Greatest Toolmakers". Starrett has over 1,600 employees worldwide and annual sales exceeding $200 million. The company has six manufacturing locations in the U.S.A., including facilities in Massachusetts, North Carolina, Georgia, Ohio, Minnesota and California. Starrett also has three international manufacturing facilities. Plants are located in Brazil, Scotland and China, in addition to distribution centers and offices located worldwide. The L.S. Starrett Company is publicly traded on the NYSE, symbol SCX.
For more information on Starrett FMM Force Testers, visit (http://starrett.co/2FvliDf) or contact The L.S. Starrett Company, 121 Crescent Street, Athol, MA 01331 U.S.A. Telephone: (978) 249-3551, Fax: (978) 249-8495, email: [email protected], internet: www.starrett.com