ALine's Polymer Laminate Technology offers customers increased functionality, time and cost savings.
Your research made the intellectual property possible and provides the scientific foundation for the product. Yet most of the approaches used in research need to be reassessed for manufacturing considerations when moving into product development.
While research requires openness to discovery and setting aside the requirement for a specific outcome, product engineering is about using the best available current knowledge and designing methods to ensure the system behaves the same way time after time.
Product engineering requires consideration up front of ways to cut costs in manufacture.
For many start-up companies, finding resources to fund an engineer with the right mix of skills is difficult. Finding a development partner is more cost effective and can produce a better outcome by approaching someone with experience with a number of products. The advantage is they will know what materials meet typical requirements, they likely have "been there, done that". It's to your benefit to leverage their experience; it could save time and money.
Before determining how to execute a sample to answer strategy, understand what the likely manufacturing options are up front. Discuss what the price point is for the manufactured product for the first two to three years when volumes will be substantially less than the market potential that is envisioned. Discuss the price point for the instrument that supports the fluidic. This will help the fluidics designers and the instrument designers to work together to balance the cost to performance of the fluidic disposable and the instrument.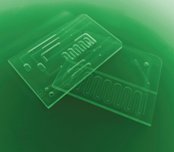 While a dollar a piece for the disposable is the ideal price point, it is unrealistic when the cost of tooling cannot be amortized over large volumes.
A good prototyping company will offer a variety of options to evaluate initial designs and suggest which technology will give the best initial results.
What do you need to accomplish with the fluidic device? Discuss the application with your prototyping partner. They should be able to help you design to get good performance without a lot of wasted time in designs that take you down the wrong path.
What kinds of parts tolerances can be expected for different prototyping methods? To keep the cost of the fluidic component low, aim to design with tolerances of +/- .005" (125 microns), and use channel widths no less than 250 microns to permit standard tooling and assembly methods.
For more information, visit ALine online at www.alineinc.com.