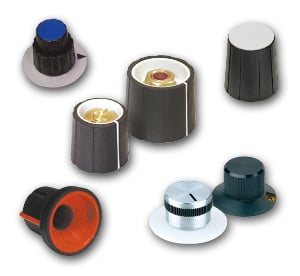 FREMONT, California, March 23, 2011 – Elma Electronic, a leading designer and manufacturer of rotary components and electronic packaging products, offers over 500 configurations of knobs in various styles. The knob types include push-on, set-screw, collet, wing, bell-shaped, aluminum, locking, and specialty knobs.
The Elma knob series serves the two-communications, medical, industrial, audio, military, and instrumentation markets. Focusing on the high-end market, the knobs have various specialty features such as unique shapes, a soft-touch feel, ergonomic design, etc. Elma's collet knobs provide a more reliable grip on the switch shaft with metal "fingers" that tighten evenly around the shaft. This prevents slippage, and ensures that the shaft will not be marred or damaged, unlike knobs that use set-screws.
Elma offers knobs that are highly ergonomic, used in applications where the feel and control of the knob is critical. Various ergonomic designs are available to prevent slippage and a hard-rubber surface option for a soft, comfortable feel. Elma also offers a full line of high-performance rotary encoders and encoders.
With a stock to 2 week lead-time. For more information on Elma's switches, knobs, LEDs, and custom design services, please contact Mark Thorsell at 510-683-8428.
About Elma Electronic
Elma Electronic Inc. is a leading manufacturer and supplier of enclosures, backplanes, cabinets, cases, and "ready-to-run" packaging for CPCI, Rugged COTS, VME/64x, VXI, PC and custom bus structures. Elma's component product line offers a wide selection of top quality switches knobs and LED arrays. The company has been a worldwide supplier of dependable, high performance products for over 35 years. Elma operates three facilities in the continental United States plus has locations in Switzerland, Germany, France, the United Kingdom and Israel.
Elma Electronic Inc. is located at 44350 Grimmer Blvd., Fremont, CA 94538 USA. Telephone (510) 656-3400 - Fax (510) 656-3783. www.elma.com