(Buffalo, NY) Caplugs offers a new shimmer finish on their line of CVV two-piece containers. These vials, traditionally available only in clear and translucent colors, are now produced in opaque shimmer shades. This finish gives containers a refined appearance, making it ideal for use in cosmetics and more.
The CVV series is attractive, practical, functional and reusable, yet inexpensive compared to glass vials. Offered in transparent polypropylene or clear styrene, they are available in a wide variety of translucent and opaque colors. These vials are stocked in a broad range of diameters and lengths accommodating 3.5 dram (.44 fl oz) to 50 dram (6.25 fl oz).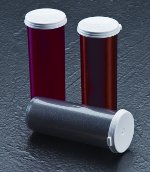 Caplugs vials and caps are manufactured of durable low-density polyethylene. A convenient thumbnail tab feature allows for quick and easy removal. For your convenience, vials and caps are sold in sets in three different quantities to ensure customers only order what they need. Caplugs larger quantity standard carton and mini-packs are poly-bagged to reduce rattling and movement in the box during shipping.



Vial packages can be personalized with pad printing of a company name, logo or even product instructions directly on the vial or the cap. With full in-house printing capabilities, Caplugs can print one-and two-color graphics as well as Pantone matching colors.
Visit www.caplugs.com to view our entire product line, place orders, request free samples and more. To speak with a customer service representative, call 1-888-CAPLUGS. You can also e-mail [email protected].
View website