Bristol Instruments expand its family of non-contact thickness gauges with addition of the model 137LS Optical Thickness Gauge
VICTOR, NEW YORK October 3, 2018 –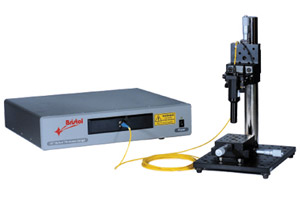 Bristol Instruments, Inc., a leader in optical interferometer-based instrumentation, has expanded its family of non-contact thickness gauges with the addition of the model 137LS Optical Thickness Gauge. This latest system has the capability to measure the thickness of materials up to 28 mm. Expanding the measurement capability of the 137 Optical Thickness Gauge will benefit engineers involved in the development and production of thicker products, such as medical tubing and multi-element optical lens systems.
The measurements provided by the 137LS Optical Thickness Gauge have an accuracy of ± 1 μm and a repeatability of ± 0.05 μm. Because the 137LS system uses light to measure material thickness, it can accommodate both hard and soft materials without damage or deformation. What's more, all material layers are measured simultaneously. For example, all the critical dimensions of a glass tube including top wall thickness, bottom wall thickness, outer diameter, and inner diameter are all measured at the same time.
"It was evident that there was a need for our precise, non-contact thickness measurement capability for applications involving thicker materials," said Don Jarvie, Business Development Manager for the Optical Metrology Products Group at Bristol Instruments. "We are confident that the new 137LS system is the best solution for a variety of advanced thickness measurement applications."
About Bristol Instruments
Since its founding in 2005, Bristol Instruments has solely focused on designing, manufacturing, and marketing precision instruments using its expertise in optical interferometry. Bristol's flagship products accurately characterize the wavelength and spectral properties of lasers and are used by scientists and engineers at universities and government and industrial laboratories. They are also used for the development and production testing of laser transmitters used in optical fiber communications. In addition, Bristol Instruments provides interferometer-based products to reliably measure critical physical dimensions of materials such as specialty plastic films, medical tubing, and ophthalmic products.
Bristol Instruments is headquartered in Victor, New York. For more information, visit
www.bristol-inst.com or call (585) 924-2620.